Cardiff City: Boss Warnock hails Madine's contribution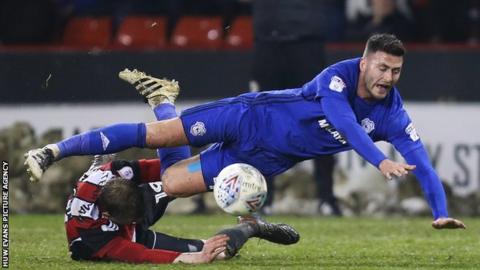 Cardiff City manager Neil Warnock has hailed striker Gary Madine's contribution to the club's Championship promotion bid.
The £6m January capture from Bolton has yet to score for the Bluebirds but Warnock says he has "never been happier" with a player he has signed.
Warnock believes he has helped boost fellow striker Kenneth Zohore with the physical attributes he brings.
"We would not be anywhere near where we are now if he had not signed," he said.
Cardiff need nine points from their remaining four games to secure the second automatic promotion place and Warnock believes Madine can play a crucial role.
"From Gary's point of view the best thing that could happen to him is that I believe in him," he said.
"I know what he does for the squad, I know what he does for the team whether he is on the bench or whether he starts. I am absolutely delighted I have got him.
"We will have critics because strikers are judged on goals aren't they? But I saw his contribution at Bramall Lane where only he would have made that strong header for the equaliser.
"And I thought last Saturday (at Norwich) he softened them up a little bit for Ken coming on and that was instrumental on why Ken had had a bit more space than he would do normally.
"I think he has a major contribution. He will not be everybody's favourite because he does not score goals, does not do this, does not do that and because we have paid good money for him.
"He will have that to carry. But he knows what I think about him that is the main thing for the player what the manager thinks.
"I have never been happier with a signing. I did not think we would manage it in January...I have been absolutely delighted. With no Danny Ward out, we had no other options.
"We would not be anywhere near where we are now if he had not signed - and it's spurred Ken on as well it has brought the best out of Ken, having competition."