Carlos Carvalhal says Premier League relegation will go to wire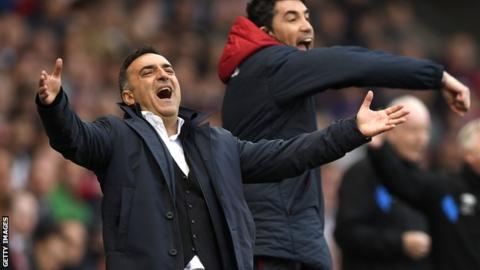 Swansea City manager Carlos Carvalhal says the Premier League relegation fight will not be settled until the last minute of the season.
Swansea are four points clear of the drop zone but now face daunting matches against Manchester City and Chelsea.
Carvalhal says Swansea are in a better position than they could have hoped for but is wary there is work to be done.
"I believe it will be a fight until the end of the season, until the last minute," he explained.
"We are ready to do that," he continued. "When we arrived we were five points off on the bottom. Would I be happy if in last game we decide (if we will be able) to stay in the Premier League? What you think I would answer? Of course I'd want that."
Swansea have two games in hand on some of their rivals at the bottom of the Premier League.
"We are in a good position and all the games are opportunities to achieve points. Manchester City is difficult but it is an opportunity, and after we have four more. Others have three more games to achieve points, we have five," Carvalhal explained.
"Manchester City is one. Some of them in theory are more difficult than others, but we will try and achieve in all games and be sure we are in a better position than we were three months ago."
Carvalhal, who joined Swansea when they were five points adrift of safety in January, expects more twists and turns to come.
"It can happen, some teams play games they were not expecting to play at this stage of the season and they are not ready for it," he said.
"If you are ready it is different. We have strong mentality because we are ready to play these games. Sometimes these kind of situations can be decisive, the way you deal with the stress.
"This is about dealing with stress and it can happen. Teams who might have 36 points lose a little concentration, it can put a team in a very difficult situation.
"Nobody is safe in this moment, until mathematically you achieve the necessary points. All of us it is the same feeling, starting West Brom all the way to Bournemouth must be careful and must achieve points."
Carvalhal insists there is no pressure on Swansea after their transformation.
"I don't feel under pressure. I am not under stress, I am very comfortable for various reasons. This is nothing new to me and we have confidence. I am not nervous about that," he said.
"There is a difference to be trying to be champions or be promoted, or if you are trying not to be relegated. But the key is always confidence.
"We have a difficult path but we are optimistic."