Liverpool: Champions League tickets role for Anfield club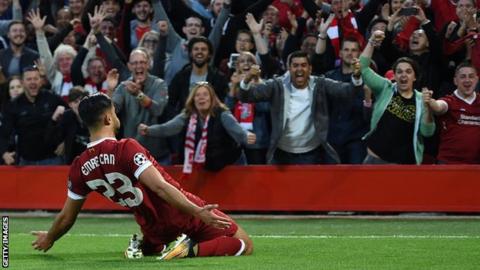 Liverpool will play a key role in a new Uefa working group set up in response to concerns over ticket prices for European games.
Some Liverpool fans are unhappy at being charged £73 for tickets for the second leg of their Champions League semi-final against Roma on 2 May.
Uefa are said to be "sensitive" to the growing focus on ticket prices.
And a deal to establish the working party was reached on Friday after talks between Uefa and the Anfield club.
Liverpool have received 5,000 tickets for the game in Rome, with the £73 price significantly more than the £44.50 that Chelsea supporters were charged for a Champions League group stage game in the Italian capital earlier this season.
Roma - whose fans will pay £48 to watch the semi-final first leg at Anfield on Tuesday - have not contravened any regulations.
Liverpool officials complained in February after Porto charged the club's 3,200 supporters 75 euro (£66) for the first leg of their last-16 tie in Portugal, while the home fans paid only 25 euro (£22).
Ticket pricing has been on the agenda throughout this season's Champions League campaign, with Uefa ordering Anderlecht to refund Bayern Munich fans after over-charging by 30 euro (£26) for a group game in Belgium in November.