Arsene Wenger: Arsenal should win trophy for boss - Per Mertesacker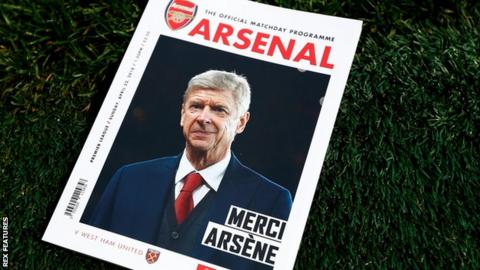 Arsenal captain Per Mertesacker wants the club to win the Europa League for departing boss Arsene Wenger.
The Frenchman, 68, will leave the Gunners at the end of the season after nearly 22 years.
The Europa League remains Arsenal's only chance for silverware this term - they meet Atletico Madrid in the semi-finals on 26 April.
"It's been emotional and there will be time to digest it but it is a sad feeling right now," said Mertesacker.
Writing in the matchday programme for Sunday's Premier League game against West Ham, Mertesacker said Wenger was a "major reason" he joined the club.
The German was signed by Wenger in August 2011 and will retire from playing in the summer to oversee the club's academy.
"We were only informed on Friday about the manager's decision to step down at the end of the season, so it's still quite emotional," he added.
"Obviously he has been at the club for such a long time and he has been so supportive to me.
"He's been the major figure of this club for more than 20 years. He's been so impressive for me and he has trusted me so much throughout my career, in bringing me here and making me captain even when I was injured.
"He also gave me a future role here at the club so I am very grateful and humbled for the opportunity he gave to me.
"There's now an emphasis on us doing it for him too. We want to give him the send-off he deserves: with a cup."
I do not want to say much now - Wenger
The Gunners are sixth in the league and are set to miss out on a top-four spot for the second straight season, with their hopes of reaching the Champions League resting on winning the Europa League.
Wenger won three Premier League titles and seven FA Cups, including the Double in 1998 and 2002.
Writing in the programme, Wenger said: "I do not want to say much now, but as I said on Friday I am grateful for having had the privilege to serve the club with full commitment and integrity for so many memorable years.
"I want to finish these notes by offering thanks to the staff, the players, the directors and the fans who make this club so special.
"My love and support for Arsenal will last forever and I urge our fans to stand behind the team so we can finish on a high."