Ederson: Man City keeper says he would 'like to score' before end of season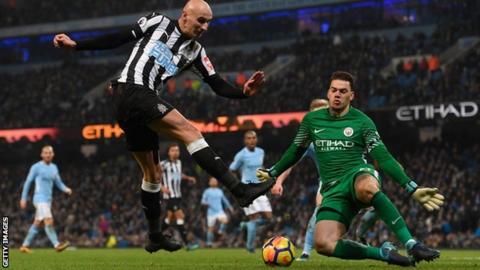 Manchester City's Ederson is hoping to become the first keeper to score for a Premier League title-winning side.
The Brazilian, 24, has enjoyed an excellent debut season following his £35m move from Benfica.
A total of 13 players have scored City's 98 league goals this season, which is five short of Chelsea's record from 2009-10.
"If Pep (Guardiola) asks me to take it, I'm there. I'd like to score," he said of a potential penalty for his side.
Only five goalkeepers have scored in the Premier League - Peter Schmeichel, Brad Friedel, Paul Robinson, Tim Howard and Asmir Begovic.
Ederson boasts the best statistics for a goalkeeper for total passes and passing accuracy in a season where City won the title with five games to spare.
Ederson also has the longest successful pass this season at 99.5 metres.
"I'm not sure if I would be able to do set-pieces, but I'm good at penalties, either using power or technique on shooting it. But City has its regular penalty-takers and we are well served," he added.
There were calls from some City fans for Ederson to be allowed to take City's penalty in Sunday's 5-0 win over Swansea, but Gabriel Jesus did so. His effort was saved and Bernardo Silva converted the rebound.
Ederson has previously spoken about his confidence that he could play in midfield for City, having been used as a makeshift outfield player while with Benfica's youth teams.
"I heard them chanting my name, asking me to take the penalty but Gabriel went there. Unfortunately he missed it and Bernardo happily scored. But if the manager had asked me to go there, definitely I'd score," added Ederson.