Euro 2024: Germany and Turkey submit bids to host tournament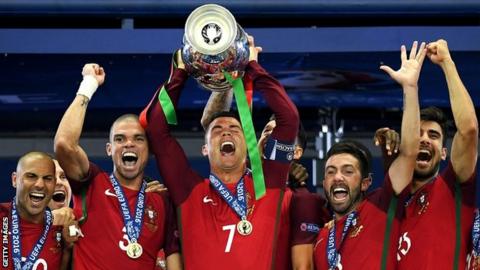 Germany and Turkey have both confirmed their bids to host the 2024 European Championship finals.
The German Football Association (DFB) submitted its application on Tuesday, with the Turkish Football Federation (TFF) following suit on Thursday.
Uefa, European football's governing body, will announce the host nation on 27 September.
Euro 2024 will return to a single-host format, after Euro 2020 is held in 12 cities across Europe.
Denmark, Norway, Sweden and Finland had considered a joint bid but did not proceed - the deadline for applications is 27 April.
The DFB withdrew its application to host the semi-finals and final of Euro 2020 to focus on this bid, ensuring the English Football Association unanimously won the vote, with Wembley hosting all three matches.
"I am certain that we will once again feel great enthusiasm and create a new spirit of solidarity at Euro 2024," said former Germany defender Philipp Lahm, who captained the World Cup 2014 winners and is a DFB bid ambassador.
West Germany hosted the 1974 World Cup and 1988 European Championship, while the 2006 World Cup was held in Germany.
Germany first announced its intention to bid for Euro 2024 in 2013 before officially declaring an interest last year.
"We are building bridges between people of different nations, and are making an important contribution to bringing alive both the values of football and those of a modern civil society," added DFB president Reinhard Grindel.
Turkey has never hosted a major tournament, after unsuccessful bids to jointly host Euro 2008 with Greece and the 2012 and 2016 finals on its own.
"It's now our time, and we are ready to share together with the whole of Europe," said TFF president Yildirim Demiroren.
"All guarantees are given without any reservations, including some additional and innovative guarantees that will ensure the financial success of the tournament - thereby benefitting all Uefa member associations."
Euro 2024 is expected to use the 24-team format introduced for Euro 2016, which was won by Portugal.