Ross County appointment can inspire side to safety, says Stuart Kettlewell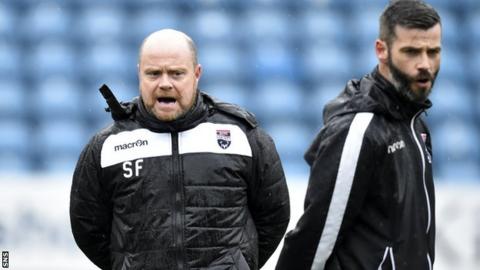 Stuart Kettlewell hopes the appointment of a permanent management duo will inspire Ross County to safety.
County confirmed Kettlewell and Steven Ferguson as co-managers on Tuesday after a spell in interim charge.
And Kettlewell reckons that could help them escape their perilous position at the foot of the Premiership.
"Everyone seemed to take the news really well, which we hope gives us a spring in our step and galvanises us for the next four games," he said.
"When the announcement was made to the players, we were delighted with the reception we got from them. They've been great with us since we came in.
"They are giving us everything they have got and it's maybe up to us to tweak things to find the creative spark that's going to win us games."
Kettlewell knows the club are taking a different route by appointing a management team, but insists he and Ferguson have an excellent understanding.
"We've been doing it for a number of weeks and it's worked out exceptionally well," he added. "We had no doubt about going down this route. We have similar principles, have worked together for years and know each other like the back of our hands.
"The manager usually always has the main say and you often get assistants who just agree to what's happening, but we feel as if we're challenging each other, we don't always agree on everything and that challenges us to come up with the solution. It's worked well so far and we don't foresee any problems with it going forward."
County are currently one point adrift at the foot of the Premiership.
In six matches in temporary charge after replacing Owen Coyle in March, the duo had won one and drawn three.
There are four league games remaining as County, promoted in 2012, aim to preserve their top flight status.
Ferguson, 40, had been academy director with the Dingwall club, having previously served as assistant manager to Derek Adams, who was sacked in August 2014.
Kettlewell, 33, returned to Ross County to coach their under-20 team in 2016, going on to win the Development League title.
As players, Kettlewell made more than 130 appearances for the Staggies between 2009-2014, while Ferguson made more than 170 appearances between 1996-2003.
With Ferguson and Kettlewell now overseeing all football operations, including the new reserve team and all youth age groups, the club will seek a new academy director, while former skipper Richard Brittain will manage the reserves.
'A perfect fit' - MacGregor
County chairman Roy MacGregor told BBC Scotland: "The guys have done a wonderful job of picking up the reins and getting the Ross County spirit back into the team.
"I think they're the right people for the long term - the culture and what we stand for, our values, are really important to the club.
"They are a perfect fit for the role and no one knows the club and playing staff, from first team down to our youngest age group, as well as them.
"In their short time in charge it has become obvious that they could not be overlooked in the search for a permanent manager.
"Having them overseeing our youth and reserve teams too will also ensure continuity at the club and give our emerging talents every chance of making the grade."
The club has not announced any contract details.