James McFadden: 'Springburn was my San Siro, my Wembley, Hampden'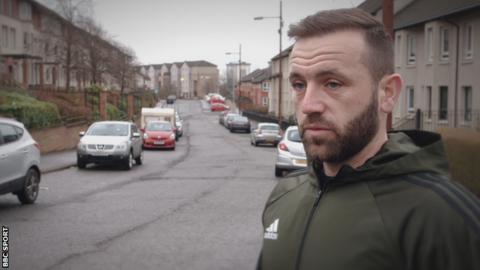 A trip down memory lane provides an insight into the early development of one of Scotland's most talented footballers of recent years.
It is a well-trodden path but one that is increasingly unlikely to be repeated.
James McFadden took BBC Sport Scotland to where he grew up in Glasgow, to the streets where he learned the game.
It appears to be exactly the same but in reality isn't, particularly for any aspiring footballer.
That prompts the question: how should the development of young footballers adapt to a very different social landscape?
Children do not have the freedom to play football as they did in McFadden's day.
"Springburn is where I learned to play," said the 35-year-old former Scotland international, now an assistant coach with the national team.
"It's where I faced some of the toughest and [most] enjoyable battles of my football career.
"It was my San Siro, my Wembley, my Hampden."
McFadden pointed to an iron gate that was transformed into a set of goals in the minds of his young contemporaries. Across the road, an iron fence was the other goal to be defended.
On this recent visit, rather than just imagine the boundaries of the pitch or frame of the goals, you also had to imagine the participants.
"It's the Easter Holidays and there's not one kid in the street," McFadden said. "You can't say it's not a safe street, because there is nobody here.
"Parents are, quite rightly so at times, worried for safety but within reason we need to get them back on the streets. They need to learn to adapt to their surroundings and use their imagination.
"The cars are parked but we've been here a while. It's not a thoroughfare of cars.
"Then we look and we see a 'no ball games' sign.
"We are trying to encourage a new generation of football players and kids that are going to go and express themselves. It's killed straight away."
It's a sign of the times and something that is unlikely to change; society has moved on.
Everything seems more controlled, something which is an increasing barrier to developing young Scottish football talent. That includes not only where children play, but how they are coached.
"Socially things have moved on so that parents are less happy to let kids run away and they don't see where they are," said BBC Scotland pundit and former international Michael Stewart.
"It is the merging of the social structure of being in a confined area but allowing them the space to learn for themselves like we all did by kicking the ball around in the street.
"Everything is a lot more controlled and naturally what's happened with that is that things have been controlled, coached and perhaps over-coached."
That's a sentiment that Scottish FA performance director Malky Mackay shares.
"We had about 70 of Scotland's youth coaches [at a forum] and the tag line was the art of attacking," Mackay told BBC Scotland.
"That was one of the big themes, are we over-coaching our kids?
"Do we give them a bit more licence? Do we actually allow them time to just play and allow them, in that final third, the licence to go and do what they want?
"There is certainly something to be said for it."
Mackay also acknowledges the issue of where children are able to play the game at a young age to hone their skills.
"Have we got enough facilities in this country for young people to go out and play sports? No we don't," he said.
"That brings better health, better social skills, interaction.
"You have to look for government support as far as that is concerned. Everybody is looking for funding for different facilities but has our country got enough?
"You look at Iceland. They built 10 indoor domes for them in a country that for six months of the year it was dark. All of sudden kids were able to play all year round and their touch got better.
"Lo and behold, their Under-17s and Under-19s and full squad have started improving. We have got to get kids the facilities."
For McFadden, you sense a sadness that children cannot develop from an early age in the way he did.
The former Scotland, Everton and Motherwell star, after a highly successful playing career, is now an assistant to Scotland manager Alex McLeish, attempting to cajole elite level players to success.
What he seeks is players who are able to express themselves.
"As a nation we've produced more than our fair share of players who could win a match just with one bit of magic," he said.
"It is for others to say whether I fell into that category but I would always back myself. I was never afraid to try something different.
"When I watch a lot of youth football I hear instructions to players, 'pass the ball.' Pass means nothing, it just means give the ball to somebody else.
"How do you want them to pass it? Where do you want them to pass it to? Why are they passing it?
"We try and control everything, coaches, parents. We try and make their decisions for them. We can't do that. They have to make their own decisions right or wrong, good or bad.
"They have to make mistakes in order to learn from them.
"With a team full of robots, pass, pass, pass, it's great but at some point you need somebody who can do something different.
"A little bit of magic, a little bit of skill to make other players think differently. If everybody just played the same it would be an awfully boring sport."