Martin Canning: decisions go against Hamilton Accies because of club's size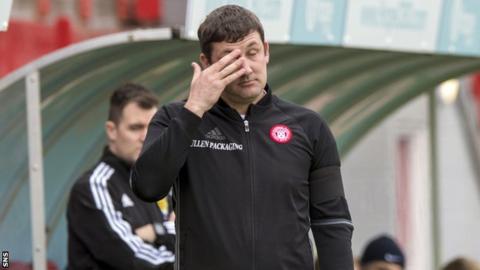 Hamilton Academical manager Martin Canning says decisions are going against his side because they are perceived to be a small club.
Canning felt his side should have been awarded a penalty in last Saturday's loss to Partick Thistle, one of several decisions that have frustrated him.
"It's a stonewall penalty," he said. "How you can't give it I don't know.
"Probably because it's Hamilton Accies nobody really cares. It's kind of brushed under the carpet."
Canning believes his side lose out because they do not have the same size of support as other clubs in the top flight.
"It seems to me we're quick enough to send Darren Lyon off against Celtic when it's debatable," he said.
"It's frustrating because for me if it's the other way round and you've got three or four thousand Thistle fans screaming for it they get it.
"Same here when it's Celtic you got three, four thousand screaming for the sending off.
"Sometimes we don't have that, the pressure that can be put on the referee. We're relying on referees to do their job."
Hamilton face bottom side Ross County this weekend in a pivotal relegation fixture, with just three points between the sides.
Canning's side has lost six consecutive games, and sit 10th in the Premiership, two points clear of Partick Thistle in the relegation play-off place.
Accies have form in finding results at the right time to avoid relegation in recent seasons but Canning believes his side know they still have to produce in the remaining fixtures.
"If they're in any doubt where we're at, we're in a relegation battle," Canning said.
"Everybody knows the severity of the position we are in and the importance of us winning games.
"We need to continue to work hard and the biggest thing, concentrate more. It's going to be tight right to the end and that's why Saturday is such a huge game.
"Every game has been a tight game," he said. "There's been one goal in the majority of the games and it's probably been mistakes but that's what this league is.
"The team that makes the most mistakes generally loses the game and that's been the case for us. We're making too many and need to tighten up on that."
Canning would not be drawn directly on reports linking Ali Crawford with a summer move to Hibernian. The player is out of contract in the summer.
"He will move on," he said. "Obviously Ali's focus is getting fit and contributing in the next four games for us.
"What happens with Ali will be up to Ali, it'll be his decision to go and make."