Gareth Bale at Real Madrid: Does Wales star have a future with Spanish giants?
By Michael Pearlman
BBC Wales Sport
Last updated on .From the section European Football150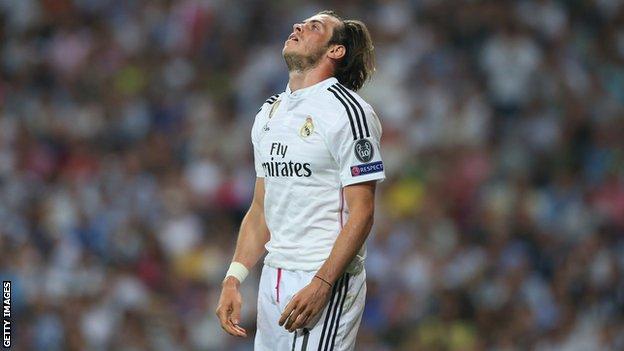 After five years, a world record transfer fee and three Champions League winners' medals, Gareth Bale's Real Madrid career could be coming to an end this summer.
No longer a regular starter, hampered by injuries and still in the shadow of Cristiano Ronaldo, Bale's future at the Santiago Bernabeu has never been under greater scrutiny, despite the official word being that player and club are still happy.
"There are still more games to come and I'll be relying on him. It's not true that I don't play him," boss Zinedine Zidane said after the 2-1 Champions League semi-final first-leg win over Bayern Munich.
Going into Tuesday's second leg, and with time running out on this campaign, it is becoming harder to see Bale returning to favour, as he is featuring less than ever for Los Blancos.
However, the 28-year-old Wales star has a lucrative contract that runs until 2022, is settled in Spain and says he loves playing for Real, who he grew up dreaming of representing.
The noises coming from the Bale camp are that he would like to stay. If he leaves, it is likely to be the club ushering him out of the door.
Is he actually having a bad season?
While form is subjective and the statistics show Bale is almost as much of a goal threat as he has ever been (a goal in just over 70% of his league starts this term), there can be no denying his place in the Madrid hierarchy appears to be slipping.
Bale has been fitter for a larger percentage of this season than last, his most injury-hit in the Spanish capital, yet he has started just 17 league games and has featured in only five Champions League matches.
He has played the full 90 minutes less than ever and no longer seems to even be the first choice off the bench.
He was an unused substitute against Bayern in the first leg, while in the last 16 against Paris St-Germain he featured for a total of 36 minutes. He was also hauled off at half-time of their quarter-final second leg against Juventus.
Bale made only his eighth 90-minute appearance of the season on Saturday - and scored the opener against Leganes - but that was in a weakened side as they prepared for the second leg with Bayern.
Gareth Bale's Real Madrid career by year

Year

La Liga starts (goals)

La Liga sub appearances

Number of times subbed in La Liga

Total minutes played in La Liga

Other appearances(goals)

Other substitute appearances

2013-14

24 (15)

3

7

2,070

9 (7)

4

2014-15

30 (13)

1

7

2,582

9 (1)

4

2015-16

21 (19)

2

9

1,741

8 (0)

0

2016-17

17 (7)

2

7

1,425

7 (2)

1

2017-18

17 (12)

6

9

1,461

6 (3)

5
Why is his popularity waning?
Former Real Madrid great Michael Laudrup, currently managing Qatari side Al-Rayyan SC, believes Bale's stock has fallen because injury problems have hampered his form for much of his time in Spain.
That means Bale - who joined Real from Tottenham for £85.3m in 2013 - has struggled to match his first season, which culminated in him scoring in the final of the Champions League.
"I thought that Gareth Bale needed a certain period, maybe one season, to adapt to Spanish football, where there is less space than in the Premier League," Laudrup told BBC Sport Wales.
"I was impressed with his performance during his first season. He scored 22 goals which was much more than anyone expected in his first season.
"When you deliver such a first season, it is normal that the expectations will be high for the coming one.
"But his second season was not even close to his first, which I personally found strange because now Bale knew the Spanish league. But unfortunately injuries played their part. The third season was good, but not as good as the first."
Denmark legend Laudrup believes the last two seasons have seen Bale become a peripheral figure at the Bernabeu.
"Last season, his influence in the team became less and less. Again his injuries were to blame for that. He could not get match fit and then it is very difficult to reach your best level," he said.
"This season has so far been a combination of injuries and the fact that Real Madrid have had a bad season [domestically].
"And of course this has also affected Bale, who has been criticised by the Spanish media.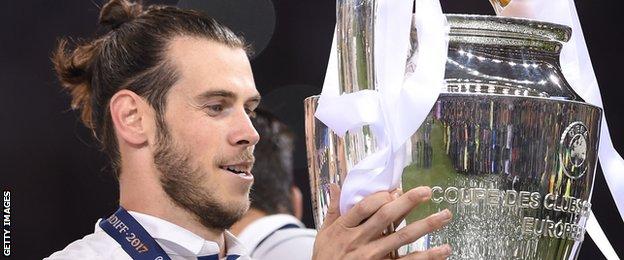 "Once more Real Madrid are doing very well in the Champions League but here it seems that Zidane prefers other players.
"So that is why, if I should guess about Bale's future, I would say he will leave Real Madrid after this season."
Is staying in Madrid now unlikely?
The goodwill towards Bale, both at board level and almost as crucially within the media and on the terraces, appears to be waning.
Former Real Madrid and Wales manager John Toshack, who gave Bale his international debut, says he is now suffering from "a worrying level of negativity".
"I am here [in Spain] and I can see and hear that there is a lot of negativity about Gareth and it saddens me a little bit," he told BBC Sport Wales.
"Generally the media, they are looking to stir things up in terms of him moving on next year.
"Zidane is politically correct in everything he says, but at the same time you can see Gareth is a little bit out of favour with him."
Toshack feels Bale now looks unhappy unless he is playing for his country and that the Madrid hierarchy may have already decided his future.
"Gareth's body language is a little bit underwhelming. You can see that he is obviously very much happier when he is with Wales than when he is with Real Madrid," he said.
"Gareth is in a position that certainly doesn't look quite right.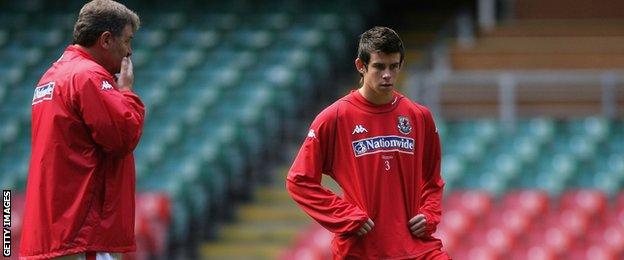 "To produce your best on the field you have to be feeling happy and confident and I get the impression there is just something holding Gareth back.
"I think his injuries have frustrated a few people at Real Madrid and there is absolutely nothing Gareth can do about that."
Is a Premier League return on?
If Bale is to leave Spain, a return to the Premier League would on paper seem Bale's most likely and logical destination.
Manchester United are thought to be long-time admirers, while Manchester City's winter pursuit of Leicester's Riyad Mahrez - a similar attacking talent - mean the Premier League champions could prove an option as well.
Apparently a boyhood Arsenal fan, Bale could attract admiring glances from the Emirates as Arsenal plan for life without Arsene Wenger, while Chelsea could also be a logical solution, especially with Madrid reportedly interested in Eden Hazard.
A return to Tottenham Hotspur would certainly be welcomed by Spurs fans as they move to their new stadium, but his salary could prove problematic.
BBC pundit Pat Nevin believes a return to the Premier League is the ideal solution for Bale.
"I would love to see him back in the UK and I just get the feeling that this is the time that would be right for him," he said.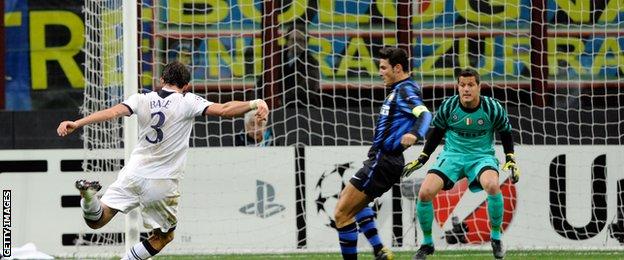 "It feels like moving back to the UK would suit him.
"He's been unlucky with injury. Had he been fully fit without quite a long list of injuries during his time there, things could have gone very differently for him.
"Maybe he would feel less pressure in the UK, be that at Manchester United, Manchester City, Chelsea or whoever."
Laudrup also feels Bale would be more welcome in the Premier League than he is in Spain.
"I think that he will return to the Premier League where most of the top clubs would receive him with open arms," the former Swansea boss explained.
"Manchester City, Manchester United, Chelsea or a return to Tottenham would be my best guess."
Bale can only join a 'giant club'
According to the bookmakers, a return to England is far from certain with both Bayern Munich and Serie A giants Inter Milan featuring prominently as potential future destinations.
Another of Bale's former Wales managers, Chris Coleman, believes there is a very small shortlist when it comes to his next club.
"He's done a good stint there, but the last time I spoke to him, he was very happy in Madrid, his family is settled there," Coleman said.
"Where does he go from there that's bigger? There's nowhere bigger, so if he does leave Madrid, where's he going to go? It's going to have to be another giant club."