Scott McKenna: Aberdeen expect more offers for defender - Derek McInnes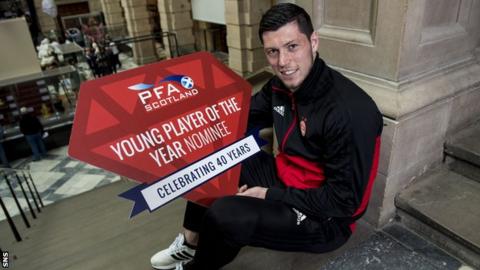 Aberdeen boss Derek McInnes is braced for more offers for centre-back Scott McKenna this summer but insists he is still "far from the finished article".
The Dons rejected three bids from Championship club Hull City in January.
McKenna, 21, has since won his first two Scotland caps and was this week nominated for the PFA Scotland Young Player of the Year award.
"There will be challenges ahead. I think we will get offers in future, as we have in the past," McInnes said.
"Thankfully, Scott has re-signed again [until 2023] and extended his contract on a couple of occasions.
"He has got the maturity and confidence and patience to remain here. He has the intelligence to know he is far from the finished article and he is gaining experiences, good and bad.
"We will make him a more rounded player and ready for what he is going to face in the future.
"The good thing for us is he is in the national set-up and Alex McLeish sees him as an important part of the squad.
"So Scott can get a lot of international football but also a lot of highly competitive games for us, hopefully European football too, where he can play a key part.
"There is still a lot for him to learn and do here. There is no doubt we will get offers in the future, but we can decide, along with Scott, what is best and what is not."
McInnes believes McKenna's nomination for the PFA Young Player award is "thoroughly deserved" for a "consistent level of performance from a youngster".
He spent a period on loan at Ayr United last season but has made 31 first-team appearances this campaign.
"Everybody loves to see a youngster break through," added the Dons manager, whose side have the chance to reclaim second place in the Premiership from Rangers on Friday when they host Hearts at Pittodrie.
"The easier part is to get involved in the squad and get yourself in the team. The harder part is to really establish yourself and be a first pick and a key part of the team.
"That is what Scott has done with his performances, but he is also being rewarded for the work he does away from the pitch - on his strength and his power.
"His dedication and professionalism, everything it takes to become a top player, he does all that and above. He has always been that type.
"Now he has got that added confidence of playing in the first team, he is going from strength to strength.
"It is brilliant to see because we all love to see youngsters coming in and cementing their place in the team but also showing that confidence and personality required. He has done exactly that.
"Hopefully he can continue his form until the end of the season, and then next season, when people are looking at him and he is more in the spotlight.
"Trying to replicate that is a challenge for any player, never mind a young player."