Mohamed Salah: Not my decision to sell Egypt forward - Jose Mourinho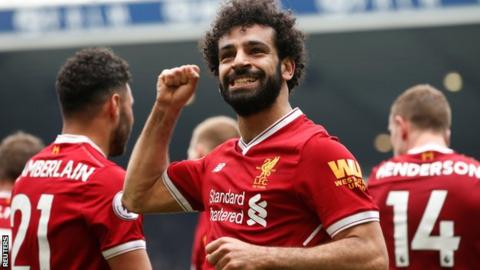 Jose Mourinho says it was not his decision to sell Egypt forward Mohamed Salah when he was Chelsea manager.
Salah, 25, left Stamford Bridge for Roma in 2016 and has scored 43 goals in all competitions for Liverpool since joining the club last summer.
Mourinho, now manager of Manchester United, says the Blues opted to cash in on the player to fund other signings.
"People say that I was the one that sold Salah and it is the opposite," the Portuguese told ESPN.
"Chelsea decided to sell him, OK? So the decision to send him on loan was a decision we made collectively, but after that, the decision to sell him and to use that money to buy another player wasn't mine."
When asked about the matter at his news conference on Friday, Mourinho added: "Everybody knows I bought Salah; I was responsible.
"I bought fantastic young player. We decided with him it was better for him to have a loan period."
Salah joined Chelsea under Mourinho in 2014 but was loaned to Fiorentina and then to Roma before making a permanent move to the Italian side for around £15m.
On his return to the Premier League with Liverpool, Salah has scored 31 goals in 33 matches and won the Professional Footballers' Association's Player of the Year award.
However, Mourinho says his form this season will have surprised even the player himself.
"He is a fantastic boy. I am really happy for him. He has more than deserved player of the year and maybe more than that," he added.