Sunderland deal prompts Stewart Donald to put Eastleigh up for sale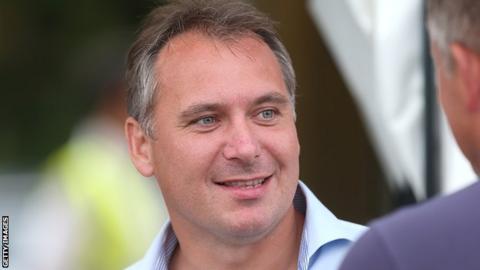 Eastleigh chairman Stewart Donald has put the club up for sale as he is involved in a buy-out of Sunderland.
Donald has been chairman of the National League club since 2011.
"It is an emotional decision for me and one that I did not expect to have to make," he said in a statement on the club website.
"However, with my potential involvement in Sunderland, it is a condition that I must relinquish control of Eastleigh."
He continued: "If the rules were different I would have loved to remain with the club for many years to come."
Sunderland have just been relegated to League One and parted company with manager Chris Coleman on Sunday.
And Donald, who has invested £10m in Eastleigh, is part of a consortium of investors set to buy the club, subject to English Football League approval.
'Sounds like a nice challenge'
Earlier this month, he told BBC Radio Solent: "It's widely known that Sunderland is on the market and there are a few consortiums in for it.
"I'm not sure how close any of them are and one of the groups has approached me to see if I could provide any funding.
"It will probably be a substantial investment if I do it.
"The attraction would be to be part of a team to restore Sunderland to where they should be, that sounds like a nice challenge."
Eastleigh have been in the National League since the 2014-15 season and finished their 2017-18 campaign 14th in the table.
"The football club is in the strongest financial position it has ever been in," Donald's statement continued.
"It is vital to ensure that the club continues to provide affordable football and progresses on the field whilst incurring absolutely no debt.
"I always ensured Eastleigh was run without debt and that any money provided was never going to create any debt."
"I would like to assure the fans that I will not charge for the sale of the club and do my very best to ensure that the club is passed to an individual or group that understands these principles and is committed to continuing them."