Chester: Relegated National League club still have a future, says chairman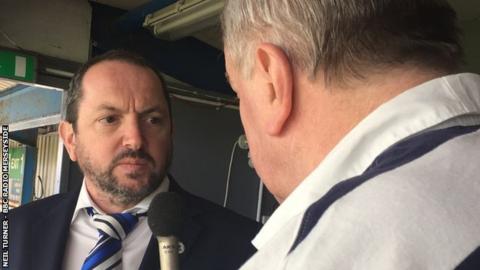 New Chester chairman David Harrington-Wright says the relegated National League club still have a future.
Fears for the eight-year-old fan-owned phoenix club's future were first raised in January when it was revealed they needed to raise £50,000 just to see out the season.
Although that figure was reached, it did not halt the club's on-field slide, with relegation confirmed on 7 April.
"Onwards and upwards. We have to build from here," said Harrington-Wright.
"The aim is to return back to the league we've just dropped out of, but we've got to be realistic.
"It'll come down to what team we can put together and what budget we can put together," the Chester-based debt collection firm boss told BBC Radio Merseyside, following Saturday's 2-1 win at Barrow.
New manager imminent
Chester have been without a manager since Marcus Bignot was sacked earlier this month.
After receiving 82 applications, Chester have whittled the number down to a shortlist of two to take charge in National League North - but one stipulation is that there must still be a role for Academy boss Calum McIntyre, who led the club's final three games of the season.
"We need a manager to come in use the youth and his contacts. That's the way forward for Chester," said Harrington-Wright.
"We've got a new manager appointment to be announced. And the way we played at Barrow just shows what good youth players we have and what the Academy can do under Calum McIntyre.
"We have not yet set a budget for next season. We need to save money on existing outgoings, not just the playing budget. The whole club has to be looked at.
"I've run the commercial portfolio for two months. I want that to be stretched. Goodwill since the fund raising in January has triggered a lot of interest. And I'm expecting to announce three sponsors of substantial level in the next couple of weeks."
Analysis
BBC Radio Merseyside's Neil Turner
"To say that the last 12 months for Chester supporters have been traumatic would be a gross understatement. The fan-owned club has seen a litany of unprofessionalism and problems evolve, culminating in inglorious relegation.
"Keeping in place the underachieving and unpopular Jon McCarthy, who managed just four wins from 21 matches at the end of last season, was the start of the issues. McCarthy was then entrusted by the out-of-touch board and their controversial salaried CEO, to invest an increased budget on a squad of over-the-hill journeymen, some of them on two-year long contracts, which is still proving to be fiscal folly indeed.
"McCarthy was predictably dismissed in the autumn, as his obtuse footballing mantra failed to improve performances or results. Marcus Bignot was then brought in, but he couldn't transform the underachievers into an acceptable team of performers. He was ultimately sacked in unique and disgraceful fashion, when one of the club directors allegedly knocked on the window of his car as he was leaving a youth team match to impart news of his dismissal.
"The year has been dogged with numerous boardroom resignations, in-fighting amongst directors, financial catastrophes, and desperately poor boardroom communication to the club's owners, namely the fans. The club's board of directors over the past year has been disastrous and a contributory factor to the club's relegation. They have made the council in the Vicar of Dibley TV show look like a well-oiled political machine.
"There are some positives emerging. The club's youth set-up is impressive. And hanging on to impressive manager Calum McIntyre, as the EFL vultures gather, may prove to be another important challenge. But a more professional approach at all levels needs to be adopted, and possibly more importantly egos need to be reigned in, otherwise National League North survival next year will be a major challenge."