'Celtic supremacy highlights Old Firm mismatch as Rangers search for answers'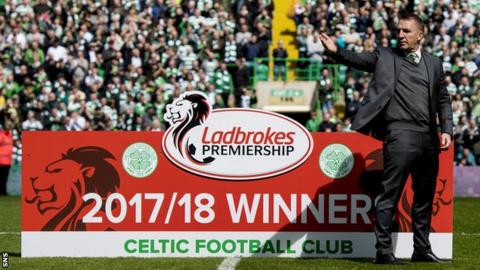 It's hard to know for sure which Rangers men had the worst of it in the last few days.
The visiting board of directors who were mercilessly mocked at Celtic Park at the height of Sunday's 5-0 annihilation? Or the Ibrox manager Graeme Murty, who we were told after the game wouldn't be speaking to the media?
The shell-shocked players who endured the most harrowing 90 minutes imaginable against the rampant champions? Or Carlos Pena, the failed summer recruit now, presumably, on his way back to Glasgow after reportedly getting sacked by his loan club, Cruz Azul, for allegedly urinating in a fountain?
There were so many snapshots from Sunday, so many moments that illustrated how Celtic lorded it over their city rivals. There was one from off the field that will endure as long as any other.
In the midst of Celtic's supremacy, a section of their support took a moment to turn their backs to the action and address the Ibrox board in the seats nearby. You can imagine the scene.
We're not talking about the height of diplomacy here. The United Nations, it was not.
Collectively, they held seven fingers in the air in acclamation of a seventh straight title that was about to be won. It was 5-0 at this point and the Celtic Park gloat-ometer was in danger of short-circuiting.
This was the first time in 38 years that Celtic clinched the title against their oldest rivals. This was the first time in 61 years that Celtic's winning margin at the end of an Old Firm game was so vast.
When the fifth goal went in, it guaranteed Celtic's biggest league victory of the season. It was the 30th goal against Rangers in 11 games in the Brendan Rodgers reign.
The visitors had to sit there and take it. In those seconds, they were like human sponges. What else could they do other than soak it up and long for the end?
This was a Celtic powerhouse performance, a day when they moved out of the third gear they've been coasting in for most of the season and reached for fifth and sixth. A formidable amalgam of wit, energy and physicality it was, arguably, their best domestic display on Rodgers' watch.
Only the noise and the colour of Celtic Park would have made you think that this was an ancient city rivalry. In every other aspect, it was a mismatch. That's three times now that Rodgers' team have put five on Rangers.
The Ibrox side have had a different manager on each occasion. From Mark Warburton to Pedro Caixinha to Murty. The names change, but the outcome remains the same. Ten different Celtic players have scored in these three games.
Rangers went into lockdown afterwards. They didn't show up for the media conference, they didn't post on social media.
Their website was frozen in time. Metaphorically, they stuck their fingers in their ears and shut their eyes and pretended this hammering hadn't happened.
They retreated to a Glasgow hotel for their player of the year awards. Daniel Candeias won the main prize. The one Rangers victory of the day.
What you have now is Celtic moving, seemingly inexorably, towards a second domestic treble. On this kind of form, Motherwell will need to be stratospherically good to stop them in the Scottish Cup final.
Six trophies in two seasons will carve Rodgers' name ever deeper in the story of the club. He remains a huge problem for whatever poor soul from across the city has to take him on.
Rodgers has counted them in and counted them back out again. Murty has done his best, has achieved some notable victories, has overseen some horrendous defeats, but his time is up now. And it's ending in rancour.
Ibrox remains a football sieve. If the Premiership title was awarded to the club that leaked the most amount of information to the media then Rangers would be damn near invincible.
The caretaker manager is a convenient target. As a youth-team coach with zero experience of life in senior management and precious little know-how in trying to handle a big beast like Rodgers, he has done just about as well as could have been expected.
Before Sunday, Rangers were 11 points better off than at the same stage last season. It mightn't have felt like it, but that represented progress. Not progress in closing the gap with Celtic, but progress none the less.
One of the problems here is that, for Rangers, everything is measured by how close they are to Celtic rather than how they are doing against Aberdeen, Hibernian and Hearts. It's a mindset borne out of history.
Murty inherited a Caixinha-created shambles, a labyrinthine mess of ridiculous press conferences; of Pena and Eduardo Herrera and Dalcio; of exit from Europe at the hands of Progres Niedercorn; of exit from the League Cup at the hands of Motherwell; of dropped points in 50% of their league games before the Portuguese was finally removed from his post.
The replacement has been dignified amid chaos. He has held the fort while his board took an age to get a 'no' out of Aberdeen manager Derek McInnes; he has tried to keep the show on the road while the Ibrox chairman, Dave King, promised an imminent appointment and then never delivered; he has attempted to keep his own counsel as his chairman issued a statement before the Scottish Cup semi-final that only weakened Murty's position in the dressing room and tried to bite his tongue as every cough and splutter of the Steven Gerrard situation was leaked in the days before Sunday.
Rangers appointed an under-20s coach and then expected him to do a fiendishly difficult job. Murty is now getting routed by the Rangers support.
Many of them want Gerrard in the door. The lesson the club seems to have learned is that this job is far too big for an under-20s coach who has never managed at senior level. Better instead to give it to an under-18s coach who has never managed at senior level.
The pursuit of Gerrard is, of course, sexy. A terrific player, a European champion, a great captain, he is the epitome of glamour.
If you want a man to get the supporters excited, Gerrard makes sense. If you want a man to get you talked about internationally, Gerrard will do that.
If, in grim times, you want to remind yourself that you remain a big club capable of attracting big names then Gerrard offers that, too.
Rangers people - but far from all Rangers people - will suspend disbelief and buy into the notion of Gerrard as Messiah. They'll do it because the alternative is too much to bear.
Incredible things happen in football. Why can't he work out? He's the great Stevie G.
There is, however, nothing in Gerrard's managerial CV that tells you that his appointment would be anything other than a massive gamble, a vanity project. For all his playing brilliance, Gerrard lives in a different world now.
He probably has little knowledge of Rangers and virtually no knowledge of the bonkers environment they operate in. What he will have, after Sunday, is an idea of how many of these Rangers players are up to the job and how many need to be replaced. The scale of the rebuild is enormous.
Eighteen months ago, he turned down MK Dons because he didn't feel he was ready to step up. Now, after coaching the kids at Anfield for a season, he's supposed to be equipped to take on Rodgers and deliver the "immediate success" that King spoke about in early April?
The Rangers drama carries on and on. Sunday was the latest instalment, the most recent reminder, not that it was needed, that the gulf between them is wider than ever.
If Gerrard really is to be the next man into the ring to try to take down Rodgers, he'd better know what he's letting himself in for.