West Ham: Andy Carroll sent home after row with manager David Moyes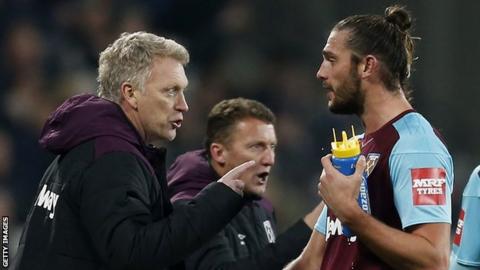 West Ham striker Andy Carroll was sent home from training on Monday following an argument with manager David Moyes.
It is understood Moyes spoke to Carroll about his conduct after he left the substitutes' bench during Sunday's 4-1 home defeat by Manchester City.
The pair had a heated exchange before Carroll, 29, was told to go home.
After Moyes made a triple substitution during the second half against City, Carroll went to the dressing room and did not return before full-time.
Moyes was known to be irritated at Carroll's behaviour, believing the former England international should have remained to support his team-mates.
It is not known whether there will be any further disciplinary action, although West Ham's players are not training on Tuesday as they have been given the day off.
The news comes as the Hammers continue to battle for their Premier League future.
In West Ham's previous home game, Carroll came off the bench to score a late equaliser against relegation rivals Stoke.
But after successive 4-1 defeats by Arsenal and Manchester City, the Hammers are three points above the relegation zone with a worse goal difference than third-bottom Southampton.
The uncertainty over the club's position means no decision has been made about the future of Moyes, or goalkeeper Joe Hart, who is on loan from City until the end of the season.