Morecambe: League Two club taken over by London-based investment firm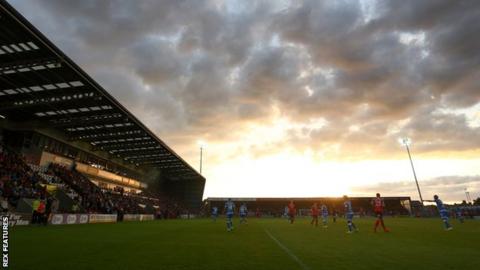 Morecambe have been taken over just four days before the game that will determine their immediate future.
The League Two club have confirmed the sale of parent company G50 Holdings' 82% majority shareholding to London-based Bond Group Investments Limited.
Morecambe first won their place in the Football League in 2007.
But they will go down if they lose at Coventry on Saturday and Barnet, who beat them 1-0 last weekend, defeat already-relegated Chesterfield.
Morecambe chairman Peter McGuigan said: "We are very pleased to confirm this transaction and look forward to a period of sustained stability and growth within the club.
"On behalf of the board I would like to thank everyone connected to the club for their patience and outstanding contribution during a difficult period for all concerned over the last few months."
The deal follows Brazilian businessman Diego Lemos's move to purchase a majority stake in G50 Holdings in September 2016.
His ownership claims were ultimately dismissed by a court in May 2017, after tax consultant Graham Burnard, acting on behalf of former Morecambe co-chairman Abdulrahman Al-Hashemi, claimed that Lemos had failed to pay for the share issue which brought him control of the club.