Birmingham City: Garry Monk to be 'relentless' in rebuilding Blues after staying up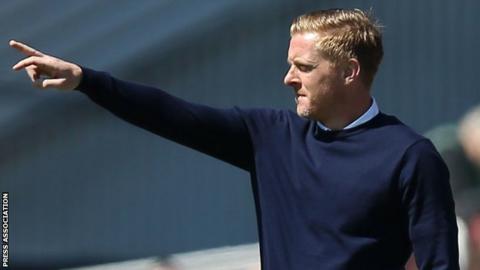 Birmingham boss Garry Monk has vowed to be "relentless" in rebuilding the club after promising big changes following Blues' latest brush with relegation.
Monk's men beat Fulham 3-1 to stay up on the final day of the Championship season for a third time in five years.
But Monk warned: "The mentality of the whole club has to change. I can promise everyone I'll be relentless with it.
"We came out with the intention to finish on our terms. We didn't want to rely on anyone else," he told BBC WM.
"And it's mission accomplished. I thought we'd get the response. Last week [a 3-1 defeat at QPR] was a hiccup. I sensed it in the week. But, in terms of standard setting it's not an achievement.
"The club has been in this position too often in the last five years, so there is relief and happiness.
"But this is a new era. There will be people who can do it and come with me and there will be people who can't and they won't be here.
"We've tried to raise the standard. The players have worked hard since we came in but we need quality too. The mistakes that have been made we will learn from.
"I'm looking forward to taking this club forward. I wouldn't have signed a contract if I didn't intend to be here. I don't want this club facing any more relegation battles like this again."
How can Monk put it right?
It is the second season running that Blues have had three managers in the course of a single campaign.
When Monk arrived in early March to replace the sacked Steve Cotterill, Blues were two points adrift of safety, with 11 games left.
But, after defeats in both his first two games in charge, Blues then won five of their last nine matches to finish five points above the relegation zone.
They upped their scoring rate, with 13 goals in that run, but they still ended the season with just 38 goals from 46 games, to rank as the EFL's joint lowest scorers along with Burton Albion.
They also had the league's lowest-scoring top goalscorer in Sam Gallagher with six. And only 13 different Birmingham players found the back of the net this season - also a league low.
Blues in the Championship - since Premier League relegation in 2011
2011-12: 4th - Chris Hughton's side lost in play-off semis to Blackpool.
2012-13: 12th - Lee Clark's first season as manager.
2013-14: 21st - Stayed up on goal difference on final day under Clark.
2014-15: 10th - Having risen from 23rd when Gary Rowett took charge.
2015-16: 10th -Five points closer to the play-offs under Rowett.
2016-17: 19th -Stayed up on the final day under Harry Redknapp.
2017-18: 19th - Stayed up on the final day under Garry Monk.