Rangers: David Weir points to 'lack of leadership' at Ibrox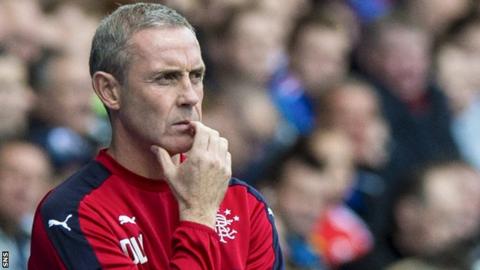 Rangers' former assistant manager David Weir believes Graeme Murty's sacking as manager highlights a lack of leadership and strategy at Ibrox.
Following Sunday's 5-0 loss to Celtic, the Rangers board relieved Murty of his first-team duties, with Steven Gerrard the man they want to replace him.
"There's been a lack of leadership from above," said Weir.
"Who is actually directing it, who's making the decisions, why are these decisions being made?"
Murty first took interim charge after Weir and Mark Warburton's departure in February 2017 and the former Scotland and Reading defender returned to that role when Pedro Caixinha was sacked in October.
The 43-year-old was put in charge for the rest of the season in December but the club announced on Tuesday that assistant Jimmy Nicholl and coach Jonatan Johansson would take charge of Rangers' final three fixtures of the season against Kilmarnock, Aberdeen and Hibernian - the latter two away from home.
"The board is where the leadership comes from, that's where the strategy and ideas come from," Weir told BBC Scotland. "Most businesses are led from the top down and people follow accordingly but I'm not sure what the Rangers strategy is.
"There's been a lot of chopping and changing and that doesn't lead you to believe there is a plan to getting Rangers competitive again. It doesn't seem like people are on the same page in making that happen."
Having been a fans' favourite as a player and captain, Weir's departure along with Warburton was shrouded in acrimony and conflicting messages to supporters.
The pair had won promotion to the Premiership and reached a Scottish Cup final in their first season in charge.
"That's over two years ago now and you think 'over those two years, has there really been progress when you look at the state Rangers are in now?'" said Weir, who was a Scotland team-mate of Murty's.
"I'm not really sure there has. And that's the disappointing element. It's never going to be a straight, upward trajectory the whole time but it just seems there hasn't been a lot of movement forward recently or a philosophy of where the club is going. And that'll be the big worry for the Rangers fans."
Weir admits it's difficult to see Murty returning to his role as Under-20s coach - a position Weir and Warburton brought him from Norwich City to take up.
"He was following his kind of pathway through and then obviously very quickly accelerated into a first-team position," added Weir. "It just seems he's been put in a position that's really difficult for him. I feel sorry for him. He's been exposed and it's not nice to see."
Ten years ago, Weir played in defence as Rangers clinched their place in the Uefa Cup final by beating Fiorentina on penalties.
"That's great memories," Weir, 47, reminisced. "Ten years ago you're winning a semi-final of a Uefa Cup and you see the current state of affairs. It's sad, really.
"It probably brings into context exactly where Rangers are now and how things have been recently."