Harry Kane: Tottenham striker says FA Cup tweet mocking him was 'silly'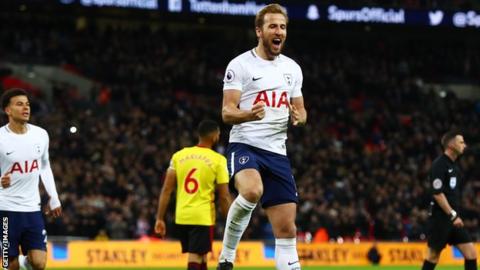 Tottenham striker Harry Kane says a tweet sent from the FA Cup account mocking him was "silly".
The tweet was posted after Manchester United's 2-1 FA Cup semi-final victory over Spurs on 21 April.
The Football Association apologised, while Spurs boss Mauricio Pochettino called it "embarrassing".
"I talked to the gaffer about it and all he was saying was, 'Would other countries do that to their own players?' Probably not," said Kane.
The message asked United and England defender Chris Smalling "What's in your pocket?" and included a short clip of him replying: "Harry Kane."
"The FA tweet was a silly tweet, we all know that," added Kane. "It is something that has gone, it was two weeks ago or whatever it was, I am over it.
"The gaffer said I was sad about it, but I am focused. I am a guy who gets on with things.
"If it happens, it happens, I move on, I look forward, I look forward to the next game, that's all I worry about, getting out on the pitch and doing my job."
The 24-year-old has also questioned the mentality of some England fans on social media.
Prior to the FA Cup tweet, Kane was ridiculed for his decision to successfully appeal against the awarding of a Spurs goal against Stoke to team-mate Christian Eriksen.
"It is strange, I think it is a mentality thing," Kane said after scoring his 27th Premier League goal of the season in Spurs' 2-0 win over Watford on Monday.
"It is easier these days to maybe banter England players or take the mick out of England players, if we don't do well in the World Cup it's, 'Oh we told you so'."
He added: "On social media you can get a few people that don't see eye-to-eye but that is part of fans and opinions.
"Everyone is passionate about their clubs and rightly so, but as a nation when it comes to the World Cup that is the most important thing, that's what comes first."