Manchester Utd's Jose Mourinho chooses Scott McTominay as his special one
Last updated on .From the section Man Utd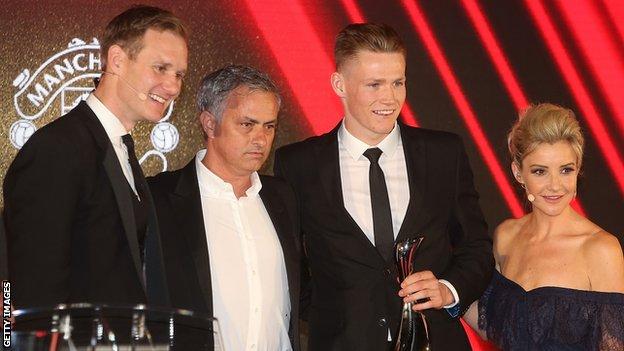 Manchester United manager Jose Mourinho has named Scotland midfielder Scott McTominay his special one this season.
Goalkeeper David De Gea was named the club's player of the year on Tuesday.
But McTominay received the manager's player of the year award despite only having made 13 starts for the club.
"He started the season in the academy and ended it playing big games in the Premier League," Mourinho told MUTV. "I thought this kid cannot go home without an award."
The decision came almost a year to the day after Mourinho handed McTominay his United debut as a substitute in a 2-0 defeat by Arsenal.
He has since made 20 appearances for the English top-flight outfit and, having decided to play for Scotland instead of England, was handed his international debut by Alex McLeish in a 1-0 defeat by Costa Rica at Hampden in March.
However, McTominay had not been chosen for United's reserve team player of the year, or the young player of the year.
That led Mourinho to decide against giving his own award to Nemaja Matic, the Serbia midfielder who had switched to United from Chelsea.
"It was between him and Matic, because Matic last March 2017 told me 'I want to play for you and I want to play for Manchester United' and he made it happen," the manager explained.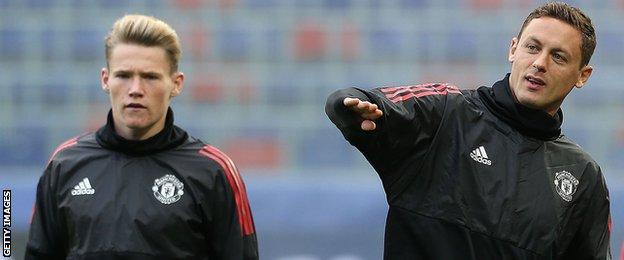 "He has been very consistent and very important for the balance of the team.
"I was going for him, but then I understood, in two awards for young players, Scott was not getting one. I changed my mind because it wasn't acceptable.
"He is the one who has done everything. I always say that, for me, there are not young players or old players, it is just about the quality of the personality and this kid has everything that I want."
McTominay admitted he was shocked to be chosen.
"It was really nice for me," he added. "Obviously it was tremendous honour and so so grateful to the manger for choosing me.
"Really looking to kick on in the last three games and the cup final.
"It has been an amazing year for me playing 20 games and obviously next season you want 25,30,35 more."