Muratti Vase: Jersey squad dominated by players from champions St Paul's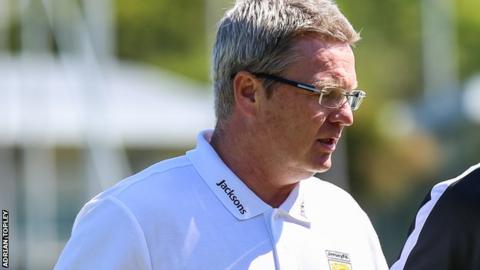 Over half of Jersey's squad for the Muratti Vase clash with Guernsey has been drawn from champions St Paul's.
The reigning Channel Island champions - who clinched the Jersey title on Sunday after beating closest rivals St Peter - have nine of the 16-man squad.
St Peter have four players and Jersey Wanderers provide three.
Jersey host Guernsey in the annual clash on 12 May and play their final warm-up game on 5 May against the Essex and Suffolk Border League.
"It was a tough decision to drop some of the players that haven't made this squad," said Jersey manager Martin Cassidy.
"With the rule that we can only select 16 players, it means some good players have just missed out.
"To play in a Muratti Vase final is one of the highest accolades for any player in Jersey Football."
Jersey squad (St Paul's unless otherwise stated): Euan Van Der Vliet, Jake Prince (St. Peter), Jack Cannon, Jake Baker (St. Peter), Karl Hinds, James Queree (Jersey Wanderers), Jay Reid, Luke Campbell (St Peter), Harry Curtis, Calvin Weir (St. Peter), Jack Boyle (capt), Michael Weir, Kamen Nafkha (Jersey Wanderers), Craig Russell, Adam Trotter, Danny Birrell (Jersey Wanderers).