Gary Issott: Suspended Crystal Palace academy director returns to club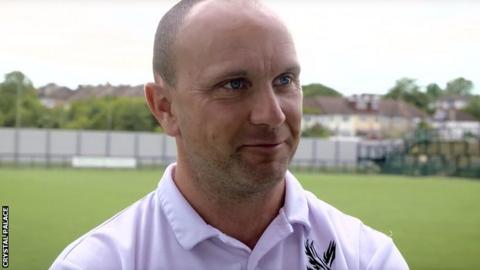 Crystal Palace academy director Gary Issott has returned to the club after allegations of inappropriate behaviour towards the club's under-18 squad.
Issott was suspended while claims he took a shower with players after a game earlier this season were investigated.
It is understood he was not found to have behaved inappropriately but he has been advised on his future conduct.
"Gary is a valued member of staff. I am delighted he is returning to the academy," said chairman Steve Parish.
"The welfare of our young players is our number one priority. It was important that we held a full investigation and that the safeguarding framework for the club has proved effective.
"The families of boys under our charge need to have complete confidence in the work we do here."
Issott added: "I am very much looking forward to resuming my work. I will continue to work with everyone at the club to ensure that our academy delivers the highest safeguarding standards."
Issott has been with Palace for around 15 years, helping develop current Premier League players including Wilfried Zaha and Victor Moses.