Newport County: Manager Michael Flynn wants patience from Newport fans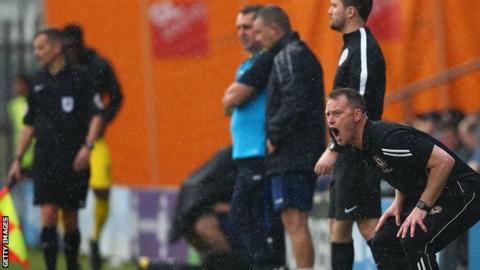 Newport manager Michael Flynn wants more patience from County's supporters after "over-achieving" in 2017-18.
The Exiles can finish in the top 10 with a record League Two points tally for the club if they win at Carlisle on Saturday in the season's final game.
But there has been criticism over a slump in form after their two FA Cup games against Tottenham with only 17 points from a possible 45 since.
"That's Newport though, there's no middle ground," said Flynn.
"It's either shoot for the stars or doom and gloom."
Flynn says the criticism of the club is typical of the mindset of the average Newport County fan, a group which Flynn counts himself among.
"I'm from Newport myself I know exactly how it works," he explained.
"When you see the comments from other managers, it's nice that professional people that know what it's about appreciate the job you've done.
"It's a very good trait at times to want more and I want more.
"But I'm happy that we've finished top half, it's a big improvement, but I'd be happier if we were in the play-offs so there's always that."
He added: "I want improvement [next season] on this season which is going to be tough because I think we have overachieved at times this year."
Flynn is already looking ahead to 2018-19, saying Newport can follow the example of promoted Accrington Stanley and Wycombe Wanderers.
Neither club has a huge budget and both have shown patience with their managers.
"You only have to look Accrington who haven't got as big a budget as Luton, but they've won the league so it's a massive credit to them," said Flynn.
"Rome wasn't built in a day as they say. Have a look at Wycombe, they've gone up, Gareth [Ainsworth] has been there a long time so you start seeing a trend now where a bit of stability gives you more chance for success.
"Don't get me wrong, there are certain times when managers have to go, but it would have been very easy for Wycombe to sack Gareth when they were struggling, they showed him a lot of faith, got behind him, gave him not just the next season, but the season after and now they're promoted.
"John [Coleman] went away [from Accrington], came back and then just built on it year after year and now they've won the league.
"It's a fantastic achievement for them both."