Europe's top leagues oppose Fifa plans for Nations League & Club World Cup
Last updated on .From the section European Football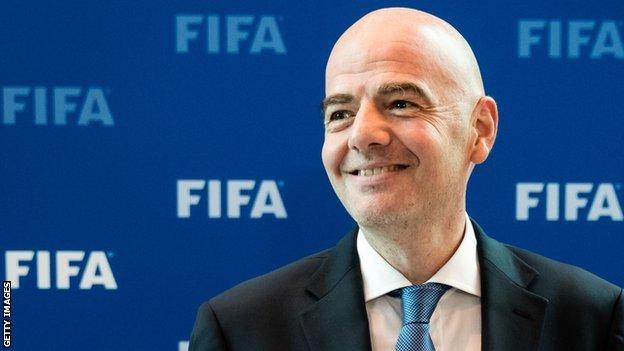 Europe's top leagues are "firmly opposed" to plans by world governing body Fifa to introduce a global Nations League and expand the Club World Cup.
The European Leagues, an association with representatives from 32 countries, has called the move reminiscent of "the way the old Fifa acted".
Last month, BBC Sport reported that Fifa will meet in May to discuss the launch of two tournaments.
The tournaments would be projected to generate $25bn (£17.9bn) in revenue.
"To present a long-term 12-year plan with lots of uncertainty and a lack of information sounds, to me, like a 'can of worms'," said Lars-Christer Olsson, president of the European Leagues.
Fifa is proposing to expand the Club World Cup to 24 teams, including 12 from Europe, with the competition staged every four years instead of annually.
It also wants to introduce a new global Nations League based on the format of Uefa's Nations League, which commences after the World Cup later this year.
Fifa president Gianni Infantino has put his plans to Fifa's council and says they are backed by an unnamed international consortium of investors.
However, European Leagues - which includes the Premier League, La Liga and the Bundesliga among its membership - is also concerned that the potential distribution of funds from club tournaments to successful teams would increase the financial gap between top teams and those not involved.
The association has called on the World League Forum and all European football stakeholders, in particular Europe's governing body Uefa, the European Club Association and players' organisation FIFPro, to stand against Fifa as the process "lacks transparency and a proper consultation with the stakeholders".