Glentoran: Curtis Allen loses red card appeal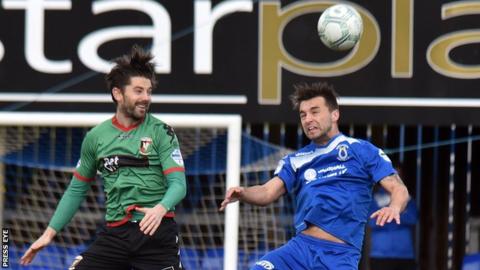 Curtis Allen will miss Glentoran's Europa League play-offs after losing an appeal against a recent red card.
The forward was dismissed for an off the ball incident during the Glens' defeat of Dungannon Swifts.
Referee Shane Andrews sent off Allen and Swifts' Seanan Clucas which led to a melee involving several players.
Allen, 30, was allowed to continue playing while he appealed against his suspension but will now have to serve a three-match ban.
The Glens will play either Glenavon or Linfield in their play-off semi-final on Wednesday, 9 May.
In the aftermath of the 4-2 win at The Oval, Glentoran had indicated they would contest the dismissal and assistant boss Kieran Harding said the striker had done nothing wrong.
"Whether the referee saw another player getting involved, I don't know. (A case of) Mistaken Identity? I don't know," added Harding.
"All we know is that we're left in the situation where we are going into the play-offs with our leading goal scorer, at the present minute in time, being unavailable.
"I think when anyone looks at the footage, they will see that he hasn't done anything wrong."
In a statement on the club website, Glentoran confirmed the Irish Football Association's disciplinary committee had rejected the appeal.
The decision means the striker could also miss the potential play-off final on Saturday, 12 May.
Under the Irish FA's disciplinary code, red cards incur an automatic one-match ban but incidents of serious foul play or violent conduct can see players handed an additional two-game suspension.