Arsenal: Mesut Ozil 'not fit to wear shirt' says former player Martin Keown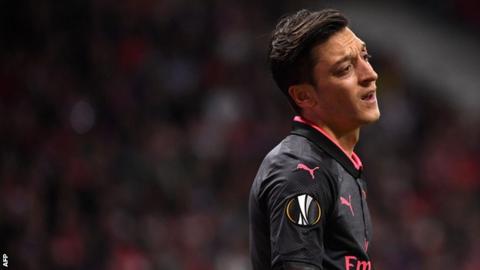 Arsenal midfielder Mesut Ozil was "not fit to wear the shirt" in their Europa League semi-final defeat, said former Gunners defender Martin Keown.
Diego Costa scored the only goal of the second leg to take Atletico Madrid through to the final 2-1 on aggregate.
Keown, who won three league titles under manager Arsene Wenger, said Ozil did not put in a "proper performance".
"These are crocodile tears I'm seeing. He's not conning me," ex-England international Keown told BT Sport.
"I bet he doesn't play again this season. He will have some emotional breakdown and won't be able to play at the weekend.
"He wasn't fit to wear the shirt for me tonight, and I have seen this a lot this season."
Wenger said he "does not agree" with Keown, and Ozil should not be "victimised".
Arsenal missed several chances to equalise in Madrid but were denied through a combination of good defending and poor end product.
Defeat ended the Gunners' hopes of qualifying for the Champions League, and Keown singled out Germany international Ozil.
"I haven't been happy with him for some time," he said of the 29-year-old. "It seems as though he picks and chooses his games. He was on the edge of things.
"That is not a proper performance. He isn't giving everything and there is a lot more under the bonnet. We expect better from him. He is a World Cup winner."
But Wenger, who will leave Arsenal at the end of the season, defended Ozil.
He added: "We lose as a team. When you want to be listened to now you have to be extreme and football is more complex than that.
"You will see that when you analyse his physical performance that he gave a lot.
"It was a difficult game, physically very intense, and I am convinced Ozil should not be now victimised by anyone because we did not score."