Wembley stadium: FA representatives called to Parliament to discuss proposed sale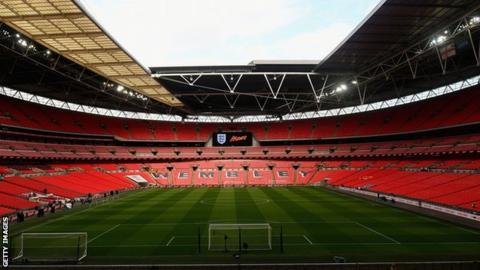 The Football Association has been called to give evidence in Parliament on the future of Wembley Stadium.
There will be a one-off session held by the Digital, Culture, Media and Sport Committee (DCMS) on 18 July.
It comes after Fulham owner Shahid Khan made an offer, thought to be worth £900m, to buy Wembley from the FA.
DCMS chair Damian Collins said there should be "some public scrutiny" of any decision to sell the stadium.
"Wembley is the home of English football, built in part using public money," he added.
"There should be some public scrutiny of any decision to sell the stadium and how proceeds from this could be invested to benefit the long-term future of the game.
"The Committee is interested in understanding the details of the FA's proposals and receiving evidence from people who may hold alternative views."
The FA said they "welcome" the move, adding that "it's an opportunity to talk about the future of the stadium, gain further input from key stakeholders and discuss our thorough review process of the offer that we have received".
Sports Minister Tracey Crouch and representatives from Sport England have also been asked to give evidence on the proposed sale.
BBC Sport understands selling Wembley would allow the FA to make a major investment into football at grassroots level.
The Committee is asking for submissions from interested parties on the risks and benefits incurred by the sale, how the proceeds from any sale should be used and the impact of a sale on the future of English football.