Steven Gerrard: A 'seriously clever or recklessly stupid' Rangers appointment

By Tom English
BBC Scotland
Last updated on .From the section Rangers458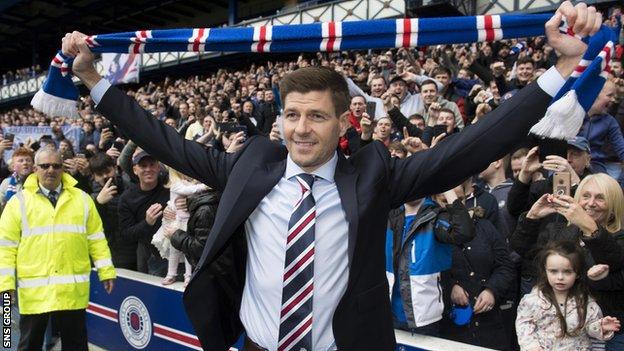 Liverpool fans need no convincing of Steven Gerrard's capacity for the miraculous, the storied events of the 2005 Champions League final comeback triumph over AC Milan just one entry in their incontrovertible book of proof pointing to his footballing sorcery.
Magic of another kind is required now that Gerrard has become Rangers manager. Hollywood has arrived at a club that has been dysfunctional for so long, its decision-making mired in failure, its support driven to despair, its players cowed and humiliated, their fighting spirit mostly played out as a civil war in their own dressing room.
Rangers have had multiple captains this season. Two of them, Lee Wallace and Kenny Miller, are currently suspended by the club for, allegedly, over-stepping the mark in the midst of the post-mortem after Celtic routed them 4-0 in the Scottish Cup semi-final.
The Ibrox club have burned their way through so many players, captains and managers these past years. Last week they appointed a caretaker manager, Jimmy Nicholl, to replace the caretaker manager they sacked, Graeme Murty. This week two directors resigned. The club lives its life in a permanent state of turbulence.
'A gobsmacking appointment'
Gerrard at Rangers, and the intoxicating rivalry with his former Liverpool manager and current Celtic boss, Brendan Rodgers, is going to be impossible to take your eyes off. But this is a gamble from which Amarillo Slim in his pomp at the poker table might have backed away.
It is a gobsmacking appointment to rank with any in the history of the Scottish game. For both parties, but particularly for Rangers, who cannot afford another misstep in management, it's a high-wire act with the hungry crocodiles below instead of a safety net.
Attention to detail was said to be one of the secrets of Gerrard's success as a player. He had an innate honesty and humility, a work ethic that elevated him above most others in England. He knew what he wanted and worked like hell to try to make it happen.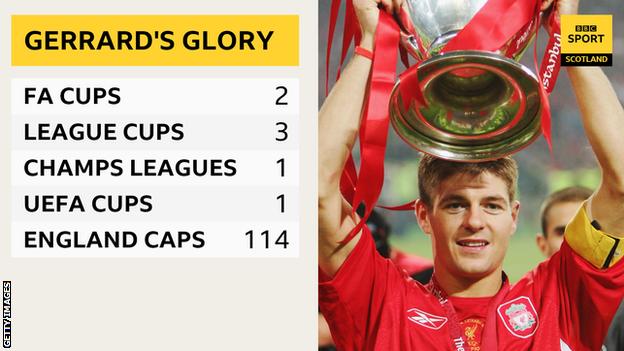 Given what people say about his meticulousness, it's hard to imagine that Gerrard is moving to Ibrox with his eyes closed.
Rangers have had seven managers, or caretakers managers, in the past three and a half years. In that time they have signed 63 players, all bar six of them on permanent deals. They have wasted fortunes, in Scottish football terms. After all their recruitment, they still have a team for which few Rangers people would shed any tears if all bar a couple left.
Chronic mismanagement in the dugout and in the boardroom has meant the scale of the job now is as big as it has ever been. Former Celtic manager Martin O'Neill, a veteran of this terrain, said last week that this Rangers side is the worst he has ever seen.
The job of making all of this better has been given to a rookie. This is either seriously clever or recklessly stupid.
'You have to salute Gerrard's bravery'
Since Pedro Caixinha's sacking in October, after just seven months in the gig, the Rangers Under-20s coach Graeme Murty has taken the team. Murty, ill-equipped for the role and undermined from within, was sacked last week after Rangers got annihilated 5-0 at Celtic Park. In truth, it could have been six, seven, eight or nine.
Rangers' treatment of Murty was rounded upon by, among others, Rodgers and Neil Lennon, two Celtic men. The Scottish champions' current boss Rodgers said that the club had treated Murty like garbage. Former Celtic player and manager Lennon said the club's behaviour had been disgraceful.
Murty, over-promoted in the first instance because the Rangers board proved incapable of finding a permanent manager, was the most recent occupant of the hot seat to be chewed up and spat out.
You have to salute Gerrard's bravery in accepting the challenge of trying to turn Rangers around given that he has zero experience in senior management. Immortality beckons if he does it. In that regard, though, he's akin to a man who wakes up one morning fancying a hill walk before heading straight for Everest.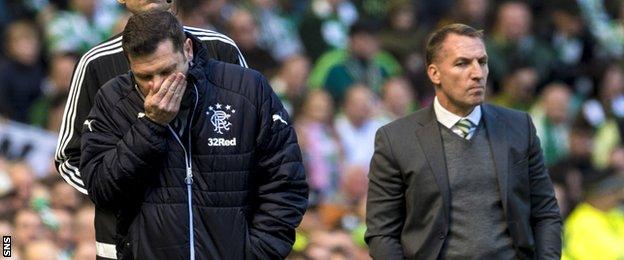 Some distant observers of the Scottish football scene reckon that all - all! - Gerrard has to do is beat Celtic to become a legend. Even if that was true - and, demonstrably, it is not - then it would be a gargantuan task all on its own.
The fact is that Rangers have not just been battered 4-0 and 5-0 in their past two matches with Celtic, they have also dropped points in the league to Hibernian, Heart of Midlothian, Partick Thistle, Kilmarnock, Hamilton, Dundee, St Johnstone and Motherwell.
They have failed to pick up maximum points in 42% of their games. Last season it was 50%. They are sitting in third place in the Premiership right now. That might become second at season's end. It might just as easily become fourth. This is a team, and an entire institution, that needs a dramatic overhaul.
'Gerrard needs players with his relentless attitude'
Gerrard will surely have money to spend - why else would he bother? - and every penny has to be spent wisely.
Apart from needing defenders who can defend, midfielders who can battle, strikers who can score goals and leaders who can lead, rather than moan after the event, the entire club needs stability. It's been teetering for too long. The spine of control, from chairman to chief executive to manager to captain, is weak and wobbly.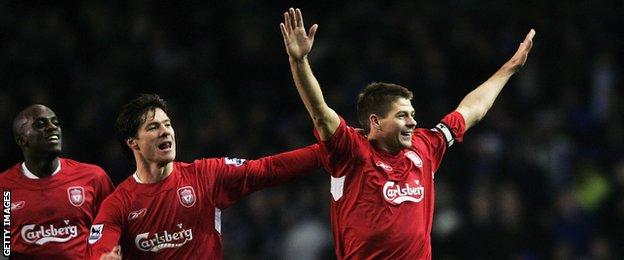 Gerrard tells many stories in his autobiography that reveal things about the man as well as the footballer. He recounts a yarn from pre-season at Anfield. The particular year is irrelevant, but the routine is not.
The captain used to to run the rule over every new recruit, like a protective father inspecting the boy his darling daughter had brought home to tea. He was obsessive about it.
"I watched every single one of their first training sessions," he wrote of the Liverpool arrivals. "I was wondering whether we'd bought a star or another dud, a king or a prat, a Xabi Alonso or an El Hadji Diouf."
This image of Gerrard as Liverpool's grand protector chimes with everything we know about him and his passion for his club. From day one he was watching out for the bluffers and chancers who were seeking to take Liverpool for a ride.
Gerrard will never be able to afford to buy a younger version of himself, but players with his kind of relentless attitude are what he needs. The head starts to hurt when you begin to think of the volume of work required to turn Rangers into a properly functioning football club that, initially, lights a fire under Celtic's backside before torching their dreams of the sacred 10 titles in a row.
In recent times, all others have folded under the pressure of the chase. With no experience in management, little knowledge of life in Scottish football, a dressing room to gut and replace, Gerrard is now cast in the role of Rangers' great redeemer. Whatever fate befalls him, this will not be dull.