Neil Warnock: Anatomy of a promotion winner
By Chris Wathan
BBC Sport Wales
Last updated on .From the section Cardiff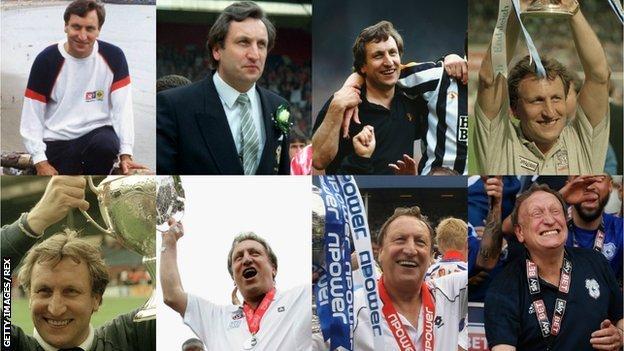 He's taken Cardiff City from relegation worries to the Premier League - so little wonder Neil Warnock called the Bluebirds' promotion his greatest achievement.
But it's only the latest in a long line of success stories for the sometimes controversial and always colourful veteran boss.
It's now eight promotions for Warnock, a record in English football and a feat described as "the ultimate achievement" by League Managers' Association chairman Howard Wilkinson.
Starting back in 1987 when he guided Scarborough to the first ever automatic promotion from the Conference to the Fourth Division, the 69-year-old has brought glory in his own unique way to clubs up and down the country.
But how has he done it time and again? BBC Sport Wales has spoken to a member of each of the teams Warnock has guided to promotion to find out just what makes him a record breaker.
Energy and ambition
'He knew exactly what he wanted to do'
Mitch Cook - Scarborough, Conference to Fourth Division, 1987
"I was a Scarborough boy and the chairman, Mr Wood, had done ever so well to get this young manager from Burton. He had changed the team and brought me back to the club from Middlesbrough.
"You could tell he was very ambitious and, he knew exactly what he wanted to do and where he wanted to go. Even looking back now you think the things he used to tell us how right he was.
"It's amazing he's still going but he always had that energy and drive and made sure everyone matched it.
"I remember once they thought I had cracked my rib and they were on about giving me a painkilling injection to play. I was panicking about it, but all week Neil would be saying to me: 'We need you, we need you, we need you' and eventually I gave in.
"I had a great game, scored and we won and went on an amazing run to become the first team to win automatic promotion from the Conference to the Fourth Division. He knew what he was doing."
Eye for talent
'I've tried you everywhere else, son'
Craig Short - Notts County, Third Division to Second Division 1990, Second Division to First Division 1991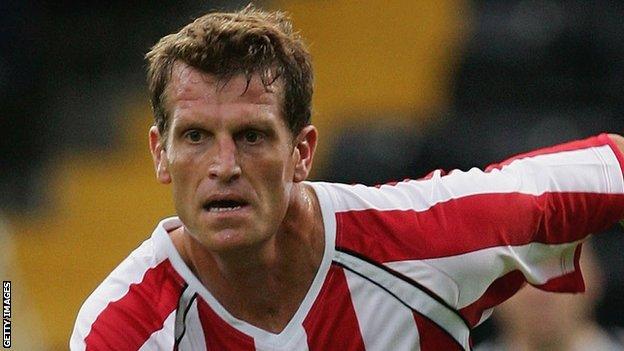 "I remember his first words he said to me when we first sat down, and it was if you're good enough you're old enough.
"I never dreamed that would be as centre-back, but he converted me from a midfielder. He said 'I've tried you everywhere else son, you're enthusiastic and determined so I want to try you at centre-back' - I have a lot to owe him for my career.
"He made it simple for me, concentrated on my strengths and he used to assign you a man to mark, something you'd only really seen in the Italian leagues.
"You've seen that through his career where he concentrated on people's strengths, never ever dwelled on weaknesses and is one of the best motivators I've ever come across.
"Neil will tell you himself he doesn't go over the top with his coaching, he keeps it very simple, and very, very basic, but he knows the characters and players he wants. He hasn't changed very much over the years even when football has, but he keeps it simple and it's been successful so why change it?"
Superstition
'This magpie has spoilt it'
Andy Booth - Huddersfield Town, Third Division to Second Division, 1995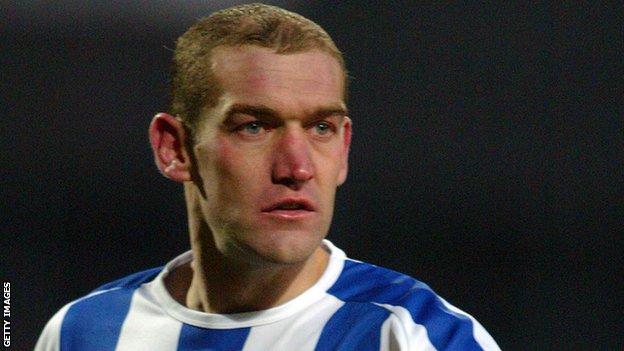 "I think he must be one of the most superstitious managers ever. We were training one Friday morning, doing set-pieces, and a magpie flew onto the pitch. He's shouted: 'Stop, stop - did everybody see that magpie? Right, we've got to wait for another - one magpie is unlucky, we've got to wait for another one before we start training again'.
"An hour-and-a-half later and we're still waiting. It had got to 1pm with a game the next day but he said: 'Right training's finished, we can't carry on because this magpie has spoilt it'.
"We went for a walk instead down a canal next to the training ground and told us to all stop and get a stick. Next thing, there's 25 grown men shouting at their sticks as we're racing them from one bridge to the next down the river.
"Looking back it's ridiculous but the next day we played and won, so next Friday morning we had to do exactly the same thing - no training, went for a walk and all of us going into training looking for the best sticks to race down the river. It was just about getting everybody together."
Team building
'Sherry and raw eggs'
Ronnie Mauge - Plymouth Argyle, Third Division to Second Division, 1996
"People won't believe this but he's actually such a family man, everything about the man is family. The manager wouldn't sign players at Plymouth unless they were settled. His ethos is all about family and the team.
"He's been a mentor to so many players, myself included - he was like a father. He likes to get players who no-one wants, who are on the scrapheap or have a point to prove. He rounds up all these players and moulds them into winners. He's got a knack of making you feel if you had £1 in your pocket, he'd have you believe you had £50.
"After training on a Friday we all used to have to drink raw eggs and have a glass of sherry. I understand now that was all about building a team, bonding and bring everyone together - it was fun and gross at the same time. He loves this camaraderie of players being as one, as a team."
Man-manager
'He can be a different person'
Chris Morgan -Sheffield United, Championship to Premier League, 2006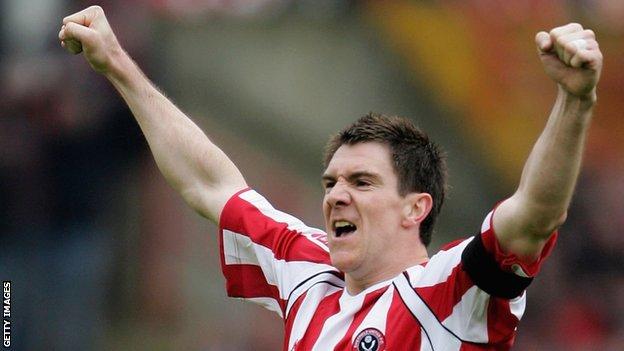 "What people have got to realise is that when people go to work - and football's no different to any other job - often you're a different person.
"The Neil Warnock people see on the touchline is a passionate man at work. He hates losing and will do everything he can to win a game of football, and if that's winding people up, or getting right into his players, he'll do whatever he needs to do. The cliche is that it's the pantomime villain - and he loves playing it.
"But if you were to do an interview with his wife Sharon she will tell you when Neil's at home with the family, he's laid back, he's a doting father and a loving husband. People find that hard to believe but sometimes it's split personalities - when you pull that shirt on and cross the white line you become a different person.
"He'll be honest with you and people have all seen the videos in the dressing room, but Monday morning it's all forgotten about and he's back to his jokey self."
Know-how
'Making the big baby captain'
Shaun Derry - Queens Park Rangers, Championship to Premier League, 2011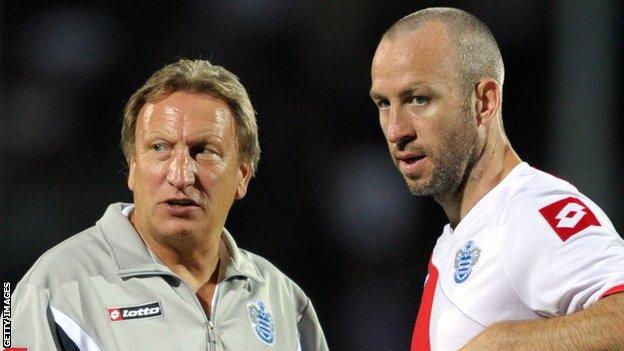 "He signed Adel Taarabt really late and it was clever because he'd already developed the team spirit - if he had signed early in pre-season and the way he could react it could have been anarchy.
"He made him captain and there were four or five senior players who could have quite easily pulled on the armband. He was honest with us, he said Adel's going to be a big baby, he's going to be the one who's going to let the group down at times, and it was up to us to keep the group going.
"But for him to have that captain's armband on that season that was a masterstroke, I don't think anyone else would have given him that responsibility. It shows someone who knows personalities inside out.
"He's a master at game-management too, managing people within games from the sidelines and the nous and knowledge he has got is massive.
"He knows his football inside out - people think sometimes he's this clown, he's spiky, but he's clever with it. He's really clever. If you speak to players who played under him and gone onto management themselves, they're always picking up the phone to Neil Warnock.
"The public perception of Neil Warnock is definitely different to the reality of what the guy is."