Southampton boss Mark Hughes says fixture scheduling is not 'fair'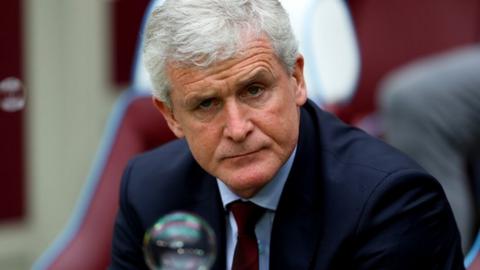 Southampton manager Mark Hughes is unhappy that relegation rivals Swansea have more recovery time ahead of their crucial meeting on Tuesday.
Swansea visit Bournemouth at 15:00 BST on Saturday, hours before the Saints face Everton at Goodison Park in a late kick-off (17:30).
Southampton are currently one point and one place below the Swans in 18th in the Premier League table.
Hughes believes it would be "fairer" if both teams kicked off at the same time.
"They make the point on the last day of the season that everyone has to play at the same time, so maybe they should do that in the last two weeks of the season," said Hughes.
"Maybe that would be slightly more fair.
"It's what the Premier League is and we accept sometimes it might not be as fair as it could be, but if you take the money you have to pay the price."