Frank Lampard: Which England players have succeeded as managers?
Last updated on .From the section Football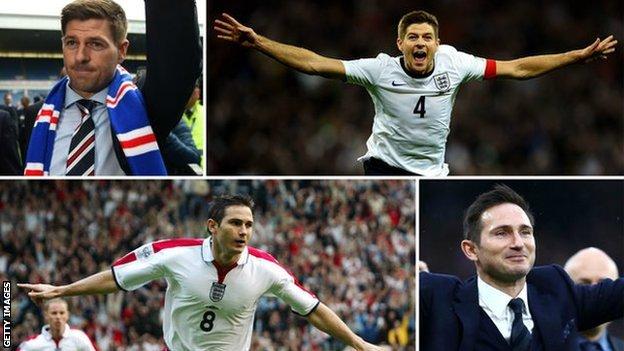 First it was Steven Gerrard, now it's Frank Lampard.
The former England midfielders have both been given their first opportunities in management this month - Gerrard with Rangers and now Lampard with Derby County.
What does history tell us about how they might get on in the hot seat?
BBC Sport has looked into the managerial careers of the pair's former England team-mates and let's just say some went better than others...
Paul "Gazza" Gascoigne
England caps: 57, England goals: 10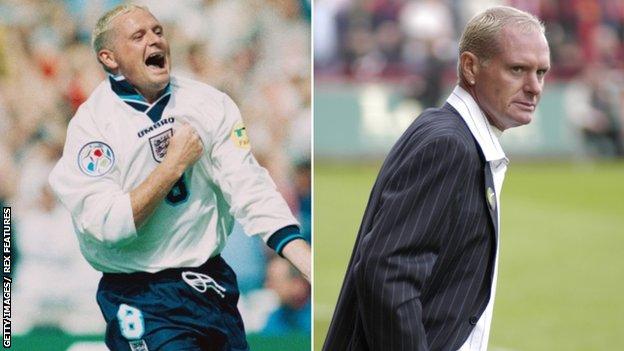 It's fair to say Paul Gascoigne's playing career strongly outweighs his managerial prowess. Gazza is considered a bona fide legend for England, Tottenham, Rangers and Newcastle United.
However, when he was appointed manager of then-Conference North club Kettering Town in October 2005, he said he was "in it for the long haul", despite some [rather mean-spirited] bookmakers putting odds on him being sacked before Christmas.
Just 39 days later, Gazza was dismissed on 5 December.
The club's owner, Imraan Ladak said his manager was drinking too much, but Gascoigne hit back, accusing Ladak of interfering with team affairs.
"I have never been left alone to do my job as manager," said the former Lazio player at the time.
Gary Neville
England caps: 85, England goals: 0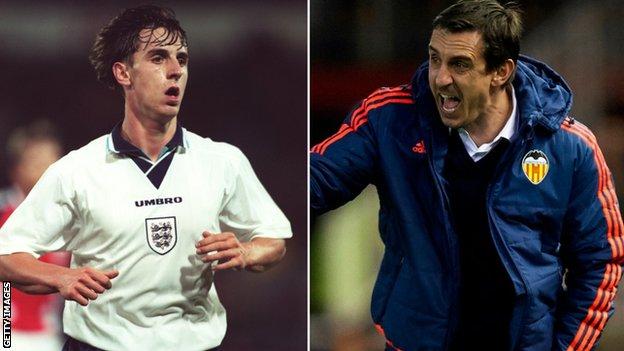 The elder Neville brother Gary dipped his toes into management after retiring from playing with 602 Manchester United appearances on his CV.
We say "dipped" because his tenure at Valencia didn't last all that long - less than four months in fact.
He was appointed with limited managerial experience in 2016 and his side won just three of their 16 league games - 10 of 28 games overall.
Awkwardly, his brother Phil, who was then a part of the Valencia coaching team, kept his job.
Alan Shearer
England caps: 63, England goals: 30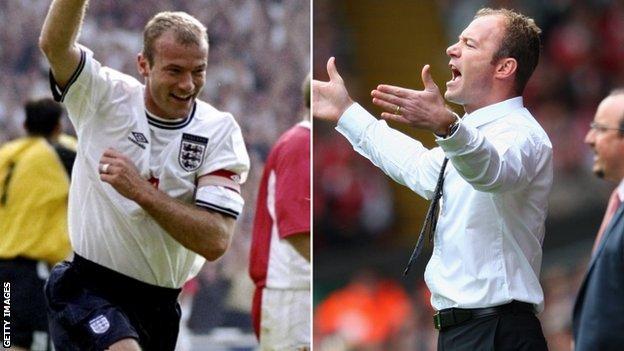 Former England striker Alan Shearer will want to be remembered for his playing days rather than his managerial record.
Shearer scored 148 goals in 303 appearances for Newcastle and even has a statue outside St James' Park.
However, his record as Magpies manager was not as impressive. He was brought in as an interim boss to fill the shoes of Joe Kinnear, who was suffering with health problems at the time.
Shearer was given an eight week sabbatical from his role on Match of the Day to try to save his beloved club from relegation, but it was to no avail.
Shearer's eight games yielded only five points out of a possible 24 [one win, two draws, five losses]. Not the stat he wants on his otherwise glittering Newcastle record.
Paul Ince
England caps: 53, England goals: 2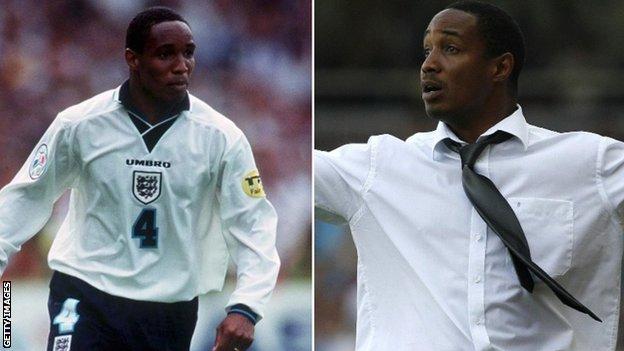 At last, we can bring you a former England player-turned-manager who picked up some silverware.
Former midfielder Paul Ince, who won two Premier League titles with Manchester United, went into coaching in 2006 starting with a stint at Swindon Town as a player-coach, followed by Macclesfield Town, who he saved from relegation.
He was given his first full-time manager job at Milton Keynes Dons in 2007 and took them all the way to the top of League Two.
In the same season, Ince led the team to Wembley, winning the Football League Trophy by beating Grimsby Town 2-0.
He then had less successful stints at Blackburn, Notts County and Blackpool - all with win percentages of less than 40%.
Tony Adams
England caps: 66, England goals: 5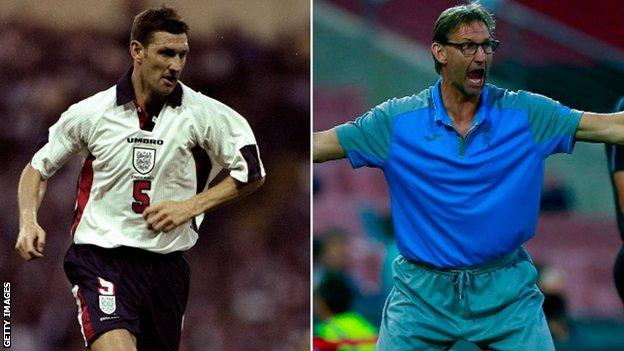 Considered by Arsenal fans as one of the club's greatest ever captains, Tony Adams seemed to be a perfect candidate for a post-retirement career in football management.
He has had spells in charge of Wycombe Wanderers, Portsmouth, Azerbaijani side Gabala and struggling La Liga side Granada CF, where videos of his training techniques have amused the masses.
His record at Granada perhaps wasn't one to shout about - seven defeats in seven games. Ouch.
Phil Neville
England caps: 59, England goals: 0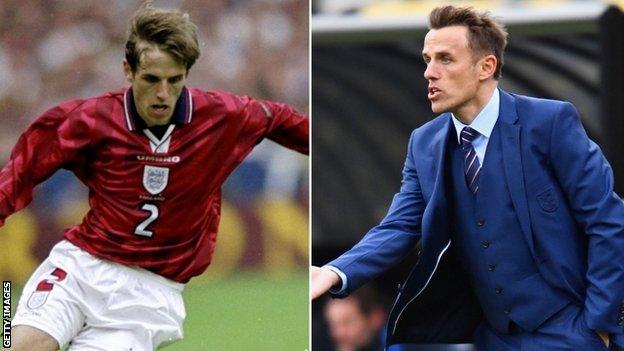 Despite having a prolific playing career, winning six Premier League titles with Manchester United, Phil Neville had little managerial experience when he was put in charge of the England women's national side in January.
He met controversy early on in his tenure following comments on social media, with one tweet suggesting women would be too "busy making breakfast/getting kids ready" to read his messages.
He has overseen five games so far - winning two and drawing two - and has plenty of time to prove his doubters wrong, with his current contract running until the end of the 2021 European Championships.
Gareth Southgate
England caps: 57, England goals: 2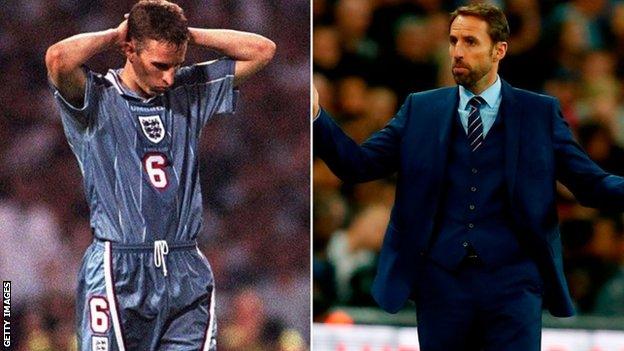 Perhaps his most infamous England moment, [and apologies for bringing it up again, Gareth] was having a soft penalty saved at Euro 96 during a shootout, sending England's rivals Germany through to the final.
However, 20 years later, after spells at Middlesbrough and England's youth sides, the former defender inherited the most prestigious job in English football: the boss of the men's senior national team.
His record so far? Six wins, four draws and two losses. Not terrible. His biggest test, however, is just on the horizon - the 2018 World Cup in Russia.