World Cup 2018: Brazil fans build huge mosaic to inspire team to glory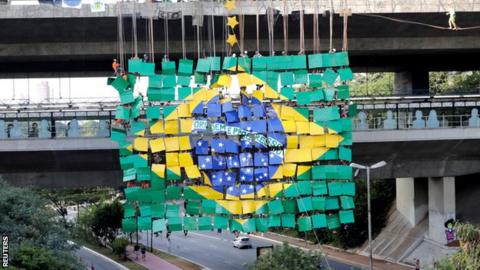 A group of 176 Brazilian climbers have abseiled off a bridge in Sao Paolo to create a huge mosaic of the national flag in a bid to inspire the team to World Cup glory.
Brazil are the only team to win the World Cup five times but they have not lifted the trophy since 2002.
The climbers lowered themselves into place to create the Brazil flag, known in Portuguese as A Auriverde (the yellow-and-green one) out of cardboard, which they hope is the largest of its kind in the world.
"I hope this will be an incentive for our players, because the Brazilian team has not won a title for a long time," one of the climbers, Iron Souza, said.
"May this serve as an incentive for them to bring a "caneco" (cup) back to our country."