Carlisle United release eight players after missing out on League Two play-offs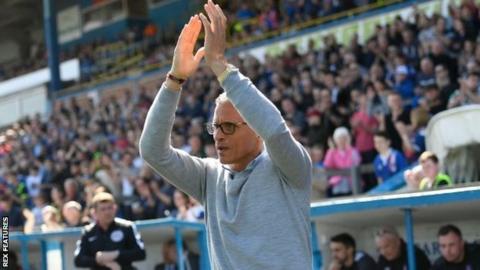 Carlisle United have released eight players following their failure to win promotion from League Two.
Outgoing manager Keith Curle, who has opted not to stay at Brunton Park next season, was part of the process with chairman Andrew Jenkins.
Three midfielders - Reggie Lambe, Samir Nabi and John O'Sullivan - were let go.
Goalkeeper Morgan Bacon, defender Tom Miller, winger Jamal Campbell-Ryce plus strikers Shaun Miller and Cameron Salkeld are also looking for new clubs.
Seven players - midfielders Nicky Adams, Jordan Holt, Luke Joyce and Jack Egan, defenders Mark Ellis, Danny Grainger and Clint Hill - have all been offered new terms and will receive a written offer of a contract from the club within the next seven days.
In veteran former Tranmere Rovers, Crystal Palace, QPR and Rangers veteran Hill's case, that would take him past his 40th birthday.
Nine other players - Richie Bennett, Jamie Devitt, Kelvin Etuhu, Hallam Hope, Mike Jones, Jason Kennedy, Gary Liddle, Tom Parkes and Cole Stockton - are all under contract until the end of the 2018-19 season.
Carlisle's five loan players - Jack Bonham, James Brown, Louis Gray, Ashley Nadesan and Kris Twardek - have all returned to their parent clubs.
After leading Carlisle to the League Two play-off semi-finals in 2016-17, Curle's hopes of a repeat after four straight wins in February were ended by a run of just two wins in their last 10 matches as the Cumbrians missed out by eight points.
"I met the players with the chairman to give them the opportunity to express how they think their season has gone," said Curle.
"Different managers do things different ways, but I like to see the players face-to-face and give them comments and opinions to help them further their career, whether that's still at this club or somewhere else. There was a lot of honesty, which I think is the best way to deal with players."