Exeter City academy: How League Two side is making millions from best young players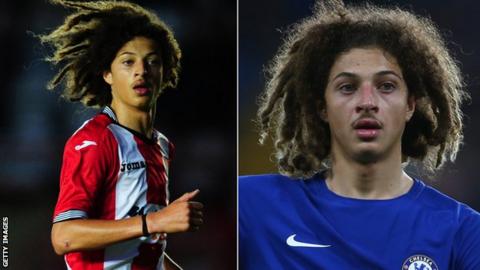 League Two play-offs: Lincoln City v Exeter City
First leg: Saturday, 12 May (15:00 BST) Second leg: Thursday, 17 May (19:45 BST)
Coverage: Live text commentary on the BBC Sport website and app
To sell one youth player for £1m is something most League Two clubs would hope for maybe once a decade.
But Exeter City have produced three of them in the past three and a half years, and players from their academy have earned the club in excess of £5m in transfer fees.
In fact, the Grecians have sold players for fees totalling more than £3.5m during the past two transfer windows alone - while the rest of League Two's 23 clubs earned somewhere between £4m and £4.5m between them.
So how do they do it?
No other choice
"That's the way it works here, we have to produce our own players."
Exeter manager Paul Tisdale is very matter-of-fact about his club.
The club is fan-owned, so there is no rich benefactor to throw large sums at transfer fees.
And while that has its problems - no free-flowing source of money and an ownership structure which allowed a group of supporters to effectively hand Tisdale his notice - it is good news for young players.
Four of the side that started their last game in League Two - Christy Pym, Jordan Moore-Taylor, Dean Moxey and Jordan Tillson - graduated from the academy, while substitutes Dan Seaborne and Matt Jay also came through the club's system.
"The club values young players and will give them a chance," Arran Pugh, Exeter's academy operations manager, told BBC Sport.
"That provides a foundation that we can build from and then we try to make sure the boys have plenty of training opportunities."
And when a club has a very limited budget, sometimes you have little choice but to blood a young player.
Pym says he was "thrust into the limelight maybe a bit too early as a goalkeeper" when, as a teenager, he became Exeter's first choice in the summer of 2014.
That period was something of a nightmare - they needed a loan from the Professional Footballers' Association to help pay players' wages and what they did spend on new recruits after a transfer embargo was lifted went on outfield additions.
But Exeter knew they had a decent goalkeeper on their hands. A few months later, Pym was rewarded with an England Under-20 call-up and he has gone on to make 118 appearances for the Devon side.
"It shows what it is achievable and that you can do it if you put your mind to it," he added.
Success breeds success
Pym's face - along with those of Ethan Ampadu, Ollie Watkins, Matt Grimes and home-grown skipper Moore-Taylor - graces the side of the cabins that house City's academy.
Those players, along with others such as Tom Nichols, George Friend and Liam Sercombe, have all gone on to play at a higher level - and that well-trodden route to the first team helps attract good young players to Exeter over other clubs.
"The club here are very sensible and they look at the long term, they're happy to bring players through and have had a lot of success off the back of it," said Pugh.
"A lot of parents like the fact that they can see there is an option for their boys to progress and be given the chance."
One of those parents is Justin Yeates. His 10-year-old son Callum is a goalkeeper who has been with City for two seasons and is about to move up to under-11 level.
"There are a lot of players who go to that academy knowing that if they're going to make it, they've got the best chance of making it if they're at Exeter City because of the way that the club is run - they want to give the youth a chance," said Yeates.
"The list of players that have made it is massive and that's only going to increase over the next few years - what better way for a footballer to know that if you've got a chance of making it you're actually going to be given the opportunity if you go down this road with this football club."
How do they do it?
Exeter have not been shy in investing in their academy - some of the money generated from the sale of Grimes to Swansea in January 2015, Ampadu to Chelsea earlier this season and Watkins to Brentford last July have gone into building a new synthetic pitch, improving grass surfaces and investing in other infrastructure.
"Who knows what's going to happen in the future, but I believe there are plans to continue to develop the facilities to allow us to continue to attract the best players in the area and develop them even further," said Pugh.
"The club really support the academy with facilities. It doesn't just happen on its own, it needs investment for the academy to keep running, and it shows that there's some thought into the future."
But talent and decent facilities alone are not enough - being a young player at an academy is a massive commitment, both for the boys and their families.
"Compared to some of the other clubs that I know of, the boys have more contact time with the coaches here," added Pugh.
"It's a massive commitment for the boys and the parents, but they'll train two evenings a week and a Saturday morning, play games on Sundays and we also have a day release programme with St Luke's School in Exeter.
"Boys from other schools also have the opportunity to come along to those sessions as well and then we work closely with schools to ensure their education doesn't get left behind."
Preparing for the future
The dream of every young player at Exeter's academy is to become a professional. The reality is that very few will, and even fewer will get sold for the big money that keeps the club going.
While Yeates' son Callum is chasing that dream, his father is one of the 95% who do not.
Also a goalkeeper, he was on Torquay United's books as a teenager - most-notably alongside former Swansea defender and now Birmingham manager Garry Monk.
He also had trials at QPR before playing a decent standard of local football and going on to coach a number of sides in Devon.
"When you sign up to the academy you've got to be a realist," he said.
"The coaches try to instil it into the players as well to make sure that they have the 'must haves' not just in football, but outside of football as well, so when they do leave the academy they can come away and still be successful in life.
"My son will come away from that football academy, whenever it is, better for being in that football academy and that's huge."
It is a responsibility that Pugh knows is huge for Exeter City.
"Hopefully whenever they leave the club, whether it's at under-12, under-18 or they've moved on to a Premier League club, they've got the foundations to be successful, and we really believe in that," he said.
"There are the success stories of those players that have come through, but I also value the players that have maybe not quite made it and gone on to do other things.
"Hopefully they'll look back their time with us and have had a great experience, have better values from being with us and go on and be successful in whatever they do because of the things we've helped them develop."