Goal-line technology: EFL approves use in all 12 play-off matches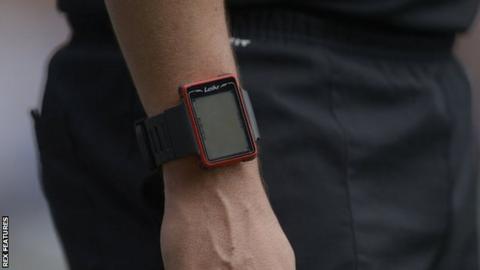 Goal-line technology will be available at all 12 of this season's English Football League play-off fixtures for the first time ever.
The Hawkeye technology was introduced to the regular Championship campaign from the start of the 2017-18, but not in the third and fourth tiers.
It has previously been in place for the Championship, League One and League Two finals but not the semi-finals.
"GLT has been a welcome and significant addition," EFL chief Shaun Harvey said.
"We are extremely aware of the difficult decisions facing match officials on any given match day, and we welcome the impact GLT is having to help match officials to make the right calls, even in the tightest of situations."
Charlton's League One first-leg play-off against Shrewsbury on Thursday is the first of the ties to be played with the technology.
EFL play-off schedule (all times BST)
First legs
Thursday, 10 May (19:45) - Charlton v Shrewsbury - League One
Friday, 11 May (19:45) - Derby v Fulham - Championship
Saturday, 12 May (12:30) - Scunthorpe v Rotherham - League One
Saturday, 12 May (15:00) - Lincoln v Exeter - League Two
Saturday, 12 May (17:15) - Middlesbrough v Aston Villa - Championship
Saturday, 12 May (19:30) - Coventry v Notts County - League Two
Second Legs
Sunday, 13 May (17:15) - Shrewsbury v Charlton
Monday, 14 May (19:45) - Fulham v Derby
Tuesday, 15 May (19:45) - Aston Villa v Middlesbrough
Wednesday, 16 May (19:45) - Rotherham v Scunthorpe
Thursday, 17 May (19:45) - Exeter v Lincoln
Friday, 18 May (19:45) - Notts County v Coventry