Sian Massey-Ellis: English official appointed assistant referee for Women's Champions League final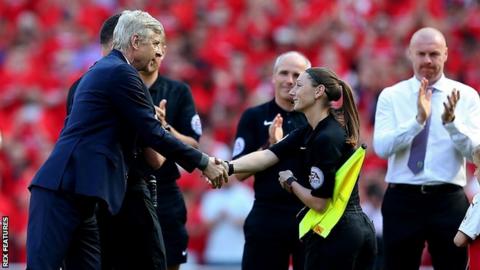 England's Sian Massey-Ellis has been appointed as assistant referee for this month's Women's Champions League final.
The 32-year-old from Coventry is an assistant referee in the Premier League and EFL and referees in the the WSL.
Lyon and Wolfsburg meet in Kiev on 24 May, two days before the men's final between Liverpool and Real Madrid.
"The Champions League final is one of those things that you just think is never really going to happen for you," Massey-Ellis said.
"I did the quarter-final this season, so I really didn't expect to get the final and I was a little bit speechless."
Massey-Ellis has twice been a reserve official for the Women's Champions League final in 2013 and 2017 and was an an assistant referee in the final of Euro 2013 between Germany and Norway in Sweden.
You can now add WSL 1 notifications for line-ups, goals, kick-off, half-time and results in the BBC Sport app. Visit this page to find out how to sign-up.