Scott Ruscoe: Welsh champions The New Saints can improve, says manager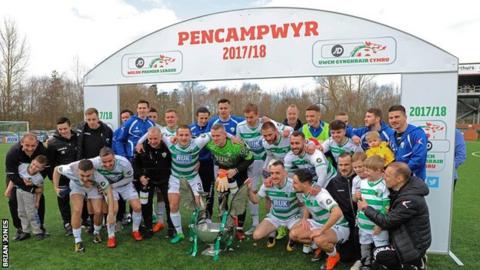 The New Saints manager Scott Ruscoe says there is "room for improvement" even though his side retained the Welsh Premier League.
Saints secured their 12th league title and also won the League Cup in Ruscoe's first season in charge at Park Hall.
"I feel we've done ok. I think we could have done better at times and there's room for improvement," Ruscoe said.
"I don't think we've had enough clean sheets, we've conceded too many goals and we could have scored more goals."
Saints scored 83 goals in the league, 34 more than second placed Bangor City and 31 more than the division's second highest scorers Newtown.
"Greg Draper got 22 league goals and he'll be the first to admit that probably he should have got 30," Ruscoe added.
"I feel there's all aspects of the season that could be improved.
"The benchmark is set - the minimum requirement is to win the league. We will try and improve year on year."
Ruscoe is already planning for the new season and ready to tweak his squad for the forthcoming campaigns in Europe and domestically.
"You've got to evolve and make new signings to freshen things up," Ruscoe added.
"There will be a few leaving and there will be a few coming in.
"You've got to be kind to the players that have done it for you and have got us to the level and they've got to be given that chance.
"It's good to have that core that know how to win the league and how to dominate."
Saints finished 14 points ahead of runners up Bangor, who have been demoted from the top flight after being refused a Football Association of Wales domestic licence.
Ruscoe says Bangor, three-time league champions, will be a big loss.
"The league needs teams like Bangor in it," Ruscoe told BBC Sport Wales.
"We need teams like that to push TNS. We want to be pushed so that we can have competitive games week in, week out.
"But rules and regulations have to be adhered to and the league have taken that stance to demote them."
Saints will enter the Champions League at the first qualifying round stage and will discover their opponents on 19 June.
Last season the Oswestry-based side beat Europa of Gibraltar 4-3 on aggregate in the first qualifying round before bowing out to Croatian side HNK Rijeka in the following round.
"We want to progress," said Ruscoe, a midfielder who played 30 games for the Saints in European competitions.
"If the players believe and play without fear and learnt from previous experience then why can't we have a good season in Europe?
"It all depends on the draw. We'll give it our best shot and take this club further."
'Learning curve'
For Ruscoe, who holds the club's all-time appearance record, it is nearly 12 months since he succeeded Craig Harrison as manager.
Harrison guided Saints to six consecutive Welsh Premier League titles, four Welsh Cups and three League Cups before leaving for Hartlepool United.
"People were saying 'how are you going to follow that?' " said Ruscoe, who had been Harrison's assistant.
"I've put everything into it since we took over from Craig, who did a fantastic job.
"I've taken bits from him and taken bits from our other successful managers. I've got my own stamp that I like to put on the team and the club.
"It's been a learning curve but a very enjoyable one."