Muratti Vase: Guernsey manager Chris Tardif names himself in squad to face Jersey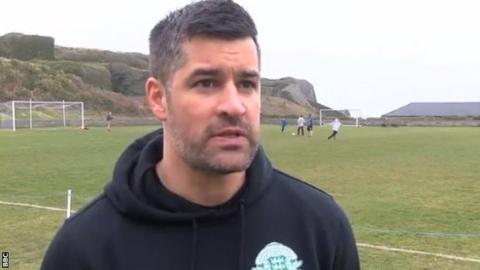 Chris Tardif could become the first player-manager in Muratti Vase history after the Guernsey boss named himself in the island squad to face Jersey.
Tardif, 38, was appointed manager of the island's representative side in October and led them to a 2-0 win over Alderney in March's semi-final.
He made his 200th and final Guernsey FC appearance last month.
He has recovered from a badly broken leg that saw him miss 18 months of football for the Green Lions.
Guernsey have not won at Springfield since 2014, but are the Vase holders after beating Jersey 2-1 at Footes Lane last year.
Guernsey squad: Chris Tardif, Jason Martin, Jamie Dodd, Alex Le Prevost, Thomas De La Mare, Harry Tobin, River Marsh, Craig Young, Charlton Gauvain, Ben Coulter, Matt Loaring, David Rihoy, Paris Pereira, Dominic Heaume, Tom Strawbridge, Will Fazakerley.