Wales could play more Principality Stadium games, says Giggs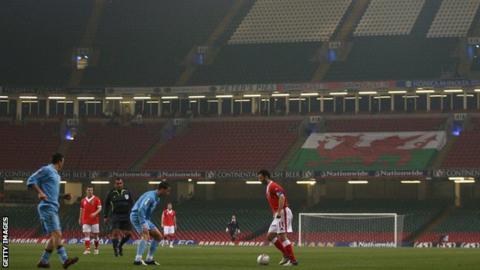 Manager Ryan Giggs has not ruled out his Wales team playing more matches at the Principality Stadium.
Wales return to the 74,500 capacity stadium for a friendly with Spain.
Giggs says moving games to the stadium will give more Welsh fans the opportunity to see matches.
"We always look before each game and evaluate it," he told BBC Sport Wales. "What we think will be the best to not only get a result but also for the Welsh fans to see games."
The national side have played the vast majority of their matches in recent years at the Cardiff City Stadium, and Giggs says from a sporting stand-point, there is no need to change.
"You've seen the success we've had at the Cardiff City Stadium," Giggs said.
"The players enjoy playing there, we've had success there so there's no reason to change really."
Since facing England in 2011 in a European Championship qualifier, Wales have played 24 of their 28 home matches at the 33,000 capacity Cardiff City Stadium, three at the Liberty Stadium which holds 21,088 fans and one at Parc y Scarlets in Llanelli which has a capacity of 14,870.
"A game against Spain has captured the imagination," Giggs said. "Moving it to the Principality where I've witnessed big games against Germany, against Italy and the fans turn up, it's a brilliant occasion and one that the players and fans should look forward to.
"The players will have to rise to the occasion because Spain are the standout team over the last ten, fifteen years."
It is understood Wales' UEFA Nations League games against the Republic of Ireland and Denmark in September and November are still likely to be played at the Cardiff City Stadium.
'One more push'
Wales' next game under Giggs will be a friendly against Mexico in California on May 29, though that match had been thrown into doubt with the Mexican Association of Professional Soccer Players threatening to withdraw players because of a dispute over contractual rights for home grown players.
The disagreement could also affect the first ever meeting between Mexico and Scotland, planned for Mexico City on June 2.
But Giggs has not been told anything concrete about their match.
"I did hear whispers that there were a few problems with the players but no, all we're doing is planning as if the game is on," he said.
"It's a good chance for me to have five or six good training sessions in good facilities, in a good climate and then a fantastic game at the end against a very good team who are going to the World Cup.
"You don't get a lot of time with international football so when you do get the time you need to use it wisely.
"We had a fantastic trip to China both on and off the pitch, getting to know the players, what they are capable of and Mexico will be the same.
"It's the end of the season so I just want the players to just give one more push before those two games in September."
The friendly will take place three days after the Champions League final between Liverpool and Real Madrid in Kiev, a match which could involve both Madrid's Gareth Bale and Liverpool's Ben Woodburn.
That would make them unlikely to be involved in Giggs' third game in charge.
"Speaking to them both during the China trip, it was difficult because I want the best players obviously to be with us but also I want players to experience Champions League finals," he explained.
"Of course you want to see your players do well but on the down side we won't be able to perhaps use them during the trip so it's a difficult one for me as a manager but then also it gives opportunities for other players."