Jamie Sherwood: Yeovil Town Ladies boss wants first WSL 1 win after ending goal drought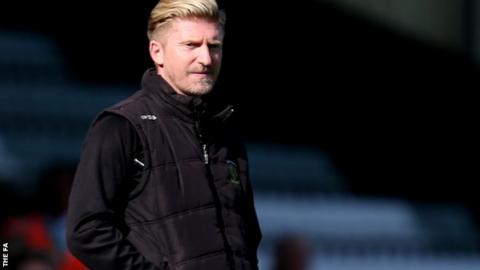 Yeovil Town Ladies boss Jamie Sherwood says his team "celebrated like we won the World Cup" after scoring their first league goal of the season, but is now targeting an "all-important" first win.
Libby Piggott ended Yeovil's 14-game wait for a league goal from close range in Wednesday's 3-1 loss at Everton.
"It's great to get that monkey off our back, but we're disappointed we didn't do more," Sherwood told BBC Sport.
"I wont be happy until we get a win."
The part-time Somerset side, who have two points from their 15 Women's Super League One games this term, from goalless draws against Arsenal and Birmingham City, remain bottom of the 10-team table.
Yeovil have three matches remaining, two of them against the sides immediately above them in the table - ninth-placed Bristol City and eighth-placed Sunderland.
"We always highlighted certain games in the season where we felt we could go out and show we could compete," Sherwood added. "It's been a testing season, but a win is what we're going after.
"If the performance is right, the potential to win a game of football is high. The club needs to win a game of football and that's what we'll go out to do."
Yeovil's first goal of the Women's Super League One campaign came after 1,308 minutes of league football this term, with Piggott scoring on her first WSL 1 start.
"She was brilliant last night, on her league debut. It was a feeling to remember," Sherwood continued.
"The staff and the players were celebrating like we had won the World Cup, which shows why it means so much to us, but we want to win games of football.
"We left Taunton at 11:00 on Wednesday morning - after work for most of the players - and many of us didn't get back in to our houses at 04:30 the next morning, and then we're up for work the next day.
"We don't want praise for those sacrifices, just maybe a bit of understanding that our preparation yesterday was slightly different to Everton's.
"I don't want anyone to think that we're moaning about that, because we just get on with it, but it just goes to show the strength of character the players have, within this group."
You can now add WSL 1 notifications for line-ups, goals, kick-off, half-time and results in the BBC Sport app. Visit this page to find out how to sign-up.