Leeds United in Myanmar: Andrea Radrizzani 'never reconsidered' controversial trip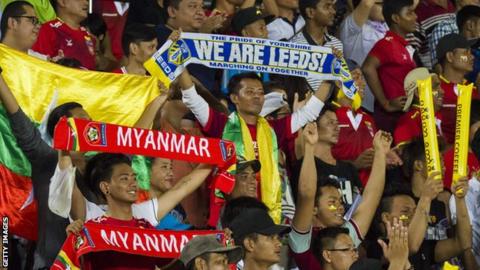 Leeds United owner Andrea Radrizzani says he did not reconsider the decision to take the club on a controversial post-season trip to Myanmar, despite criticism from the city's MPs.
MPs Rachel Reeves, Hilary Benn, Richard Burgon, Fabian Hamilton and Alex Sobel said it was "deeply inappropriate".
United began their tour on Wednesday, losing 2-1 to the hosts' National League All Stars in Yangon.
"I'm not interested in playing politics," Radrizzani told the BBC.
"I'm honest with myself and I'm honest to everyone that we are not doing anything bad.
"I think the majority of Leeds United fans understand that and are supportive of the project.
"A few making noise on Twitter cannot change the majority of those who are silent."
The trip continues to divide opinion because of the treatment of Myanmar's Rohingya Muslim minority.
Nearly 700,000 of the Rohingya minority have fled the country since August because of ongoing military operations in Rakhine.
Myanmar's government, which does not give the Rohingya citizenship and sees them as illegal immigrants from Bangladesh, says it is fighting militants and has denied targeting civilians.
The United Nations described the issues in the northern Rakhine province as a "textbook example of ethnic cleansing".
"I'm against persecution - not only in Myanmar but in every country in the world. I'm against any kind of violence," Radrizzani said.
The Italian businessman, who took full control of Leeds United in May 2017, said he had not expressed these views to his hosts.
"I'm not a politician. Those who raise this issue should take care of this problem, not me," he added.
"We are just here to play football and hopefully bring some joy to the fans who came here to watch this friendly game."
Shadow sports minister Dr Rosena Allin-Khan called the trip "morally corrupt", while it has also been claimed Radrizzani was putting his financial interests before the Yorkshire club's reputation.
Radrizzani, who runs sports broadcasting company Eleven Sports, denied any money was being made from the trip.
However, he conceded he wants to do more business in Myanmar in the future, with Eleven Sports already having Asian broadcasting deals in Singapore and Taiwan.
"I have different interests and I have a good relationship with the president of the federation," he said.
"I have nothing to hide. I do my job and my business how I want to.
"If other people want to buy a football club and run it differently to me then fine. I'm happy and proud our club is here."