Chester: Stuart Murphy revealed as potential investor in relegated National League club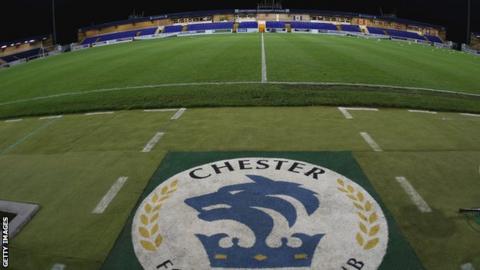 Businessman Stuart Murphy has been revealed as the proposed investor in relegated National League club Chester.
The fan-owned club has struggled financially for some time, with £50,000 needing to be raised just to ensure they could fulfil their fixtures.
Murphy says his involvement will not be a "money-making exercise" and will "focus on improving infrastructure".
The club said it hopes the legal processes regarding Murphy's investment will be completed by the end of May.
Murphy, who is a Chester supporter and whose company used to sponsor the team's home stadium, added: "I love the city and wanted to give something back.
"Both myself and the City Fans United board have some really great ideas as to how we could spend the donated funds for the benefit of the club - focusing on improving the infrastructure and maximising revenue streams.
"There are some really exciting things in the pipeline and fans have every right to be excited with what the future may hold."
After five years in the National League, phoenix club Chester will play in English football's sixth tier next season.
One downside for Chester is that the planned investment has not happened quickly enough to keep hold of captain Ryan Astles.
The big defender, 24, signed from Northwich Victoria in January 2016, has left to join Chester's new National League North rivals Southport, on a two-year contract.
He will rejoin former Chester manager Jon McCarthy, currently number two to Southport boss Liam Watson, who was reappointed at Haig Avenue last week.