Swansea City: Renato Sanches will not play against Stoke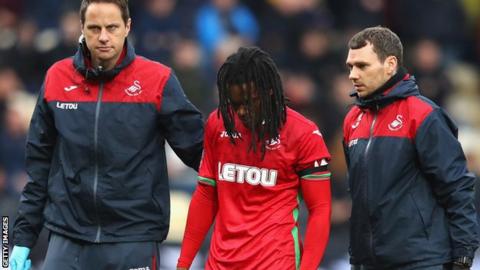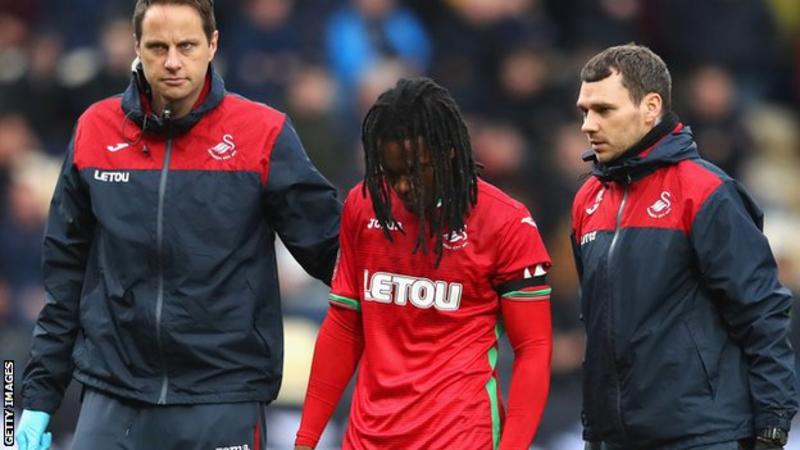 Swansea City midfielder Renato Sanches will not play for the club again after enraging fans on social media.
The Bayern Munich midfielder posted about a new personal emoji on his official Twitter account hours after Swansea's 1-0 defeat by Southampton all but guaranteed their relegation.
Fans reacted angrily and boss Carlos Carvalhal called the post "stupid".
Swansea need victory and a 10-goal swing in goal difference to survive the drop on Sunday.
They are three points behind Southampton, who entertain champions Manchester City on the final day of the season when the Swans host Stoke.
The match will mark the end of an era for Swansea, who are not only likely to be relegated after seven seasons in the Premier League, but who will also say farewell to their two longest serving players, Leon Britton and Angel Rangel.
It is also understood Carvalhal will also leave the club.
Emoji post was 'stupid'
While Rangel and especially Britton will be afforded a fabulous send-off in Swansea's final Premier League match, the same would not be true for Sanches.
However, Carvalhal says the decision not to include him in the squad on Sunday is not because of his post on Wednesday.
"Renato will not be involved on Sunday. He will not be on the bench," Carvalhal said.
"It is not about that [the emoji post]. It is because Leon [Britton] will instead be on the bench in his last Swansea game.
"But I say all the time to the players about the dangers of social media, and the majority of the time it is not them doing it.
"They are getting people who support them to do it - and sometimes their friends are stupid.
"They put things in their hands that are not football and they think they are doing a good thing. But they are doing one of the more stupid things in the world."
Carvalhal says Sanches understands the decision not to involve him on Sunday, admitting he does not even know if the 20-year old will be at the ground.
"I talked with him Wednesday and explained he would not be involved Sunday," Carvalhal said.
"I told him if he preferred he could go home, he was given the decision.
"He decided himself to stay here and said that he would prefer to train.
"But I don't know if he will be at the game."
'He knows he did a very bad season'
Upsetting a section of Swansea fans rounds off a horrible season for Sanches, who was named young player of Euro 2016 after Portugal won that tournament.
Bayern allowed him to go out loan after a difficult first season in Germany following a record transfer and his signing was hailed by many, including Wales boss Ryan Giggs, as one of the most exciting of the summer.
However, Sanches has endured injury and form issues and has featured only 15 times, failing to register a goal or even an assist and has not played for the club since January because of a persistent hamstring injury.
His fellow Portuguese, manager Carvalhal, believes Sanches should now seek a transfer back to Portugal.
"He knows he has had a very bad season," Carvalhal explained.
"In the time I have been here, I can say he is not at the level he was before at Benfica; but he is building and we thought we could push him to that level he played at before. But when he got the injury that finished again.
"The press are talking that maybe he can go back to Benfica and, if that is the reality, that is the best step for him.
"Renato jumped very fast from the under-19 team to the national team, but was he ready to go out of Portugal to a big club? In my opinion, no, because he is a boy.
"He needed to stay there, for two or three seasons to learn about football. But he left Benfica with a big reputation and a lot of things to learn and when he leaves, he stops learning.
"He needed to stay at Benfica for two or three years, but he goes to Bayern Munich - one of the biggest clubs in the world - and there it is very hard to play games.
"He was inside the machine when he was not ready to be.
"If he can go back to Benfica he would benefit from having his parents and friends still around him. He has a big potential still."