Huw Jenkins: Chairman should quit Swansea, say Ian Walsh & Iwan Roberts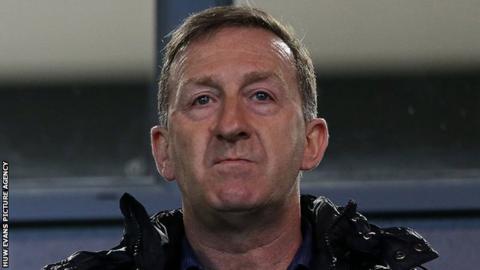 Chairman Huw Jenkins is facing fresh calls to quit after Swansea City's relegation from the Premier League.
Jenkins was absent from Sunday's 2-1 home defeat by Stoke City which ended Swans' seven years in the top flight.
Ex-Swansea striker Ian Walsh says Jenkins' role in attracting American investment in 2016 means his position is untenable.
"This decision (to sell to the Americans) has cost Swansea their place in the Premier League," said Walsh.
"Sadly, this club needs to look for new owners and Huw Jenkins needs to step down.
"Huw, for his own sanity, because it will just get worse and worse for him.
"They have been relegated from the best league in world football.
"It is humiliating and the fans don't deserve it."
Steve Kaplan and Jason Levien are the club's majority shareholders in a consortium that includes actress Mindy Kaling.
Walsh added: "Bringing the Americans in just to stabilise the club was never going to be enough.
"With a business you need to bring money in to invest in the club to make it go forward.
"They haven't spent and the job done with recruitment in the summer [of 2017] was shocking."
Former Wales striker Iwan Roberts also believes it is time for Jenkins to leave.
He told Radio Wales' Good Morning Wales: "I think it's a good shout for Huw to step down now. He has done great work at the football club.
"But the last two years - since the directors and the old owner sold their shares for millions of pounds - you cannot help but think his eye has been taken off the ball.
"I think he has taken far too much responsibility on his own shoulders on recruitment and bringing in managers and he needs help.
"It has become very bitter now at the Liberty Stadium. You can understand why - the fans are hurting.
"But whether the new owners will sell up now... They are not going to get what they paid for it as a club now in the Championship."
'Poor recruitment'
Before their fate was sealed the Swansea City Supporters Trust, who have more than 21% of the shares and a seat on the board of directors, renewed their call for Jenkins to go.
Following the Stoke debacle, Trust chairman Alan Lewis also called for an overhaul.
He told BBC Radio Wales: "We are urging the majority owners to implement a thorough review of the football side of the club and that is something that needs to be done immediately.
"Huw's position will be part of that discussion. A lot of flak does get directed at Huw particularly on the recruitment side.
"There are other people involved in that, not least managers over the years.
"Ultimately Huw, in his position as director of football in all but title, is a key player in that process.
"We have said publicly we think Huw should be replaced and that's part of the review we are calling for.
"The Americans need to look carefully and the poor recruitment needs to be resolved."
'Not good enough'
Following the confirmation of relegation, owners Kaplan and Levien issued a statement in which they accepted share of the blame and promised action.
They admitted the operations on the recruitment side had "not been good enough."
They said steps would be taken to rectify this and they would be "bringing additional resources to that department during the summer in a bid to change and strengthen the way we operate."