Hamilton: Ali Crawford eyes move to England after Accies exit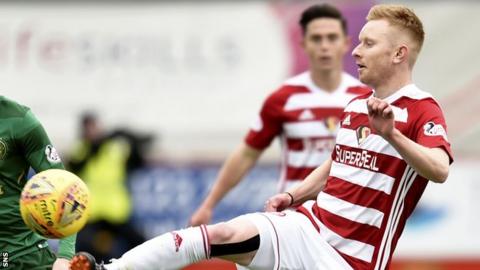 Hamilton midfielder Ali Crawford says his preference would be a move to England after the end of his 11-year spell with Accies.
The 26-year-old is available on a free transfer after an injury-hit season he describes as the worst of his career.
"I have got nothing lined up as yet," he said. "I just need to wait and see over the next couple of months and hopefully I'll get myself sorted.
"If I'm honest I'd like to try down south and see if I can make it there."
Crawford has been a star performer for Hamilton since their promotion to the Scottish Premiership, reaching double figures for goals in both the 2014-15 and 2016-17 seasons.
He admits the club will always have a special place in his heart after they signed him as a 15-year-old.
"I had just been released by Hearts, because I was too small apparently," he recalled.
"Hamilton gave me the chance and I went into their Under-17s squad and by the end of the year I was on the bench for the first team when I was 15.
"So I could never say a bad word about Hamilton. They gave me my chance and I've been here 11 years; now it's time to move on to pastures new.
"I have a lot of very good memories - getting promoted, staying in the league four years, beating Celtic at Parkhead.
'The worst season of my career'
"The last couple of years has been tough, fighting relegation battles, but we're still in the Premiership this year so credit to the boys."
There have been reports of interest in Crawford by Hibernian, but the midfielder will assess his options as he aims to put a frustrating season behind him.
"This has probably been the worst season of my career so far," he added.
"I started the season and then in September I got an injury. I've played six games since then so it's been frustrating to end it this way.
"I would have liked to play for the last time [against Motherwell on Saturday] in front of the fans but that's the way things go and hopefully I can come back stronger next season wherever that may be."
Hamilton have also lost promising 18-year-old midfielder Lewis Ferguson, who has signed for Aberdeen.