FA Cup final: Man Utd's Phil Jones on controlling his nerves before Chelsea game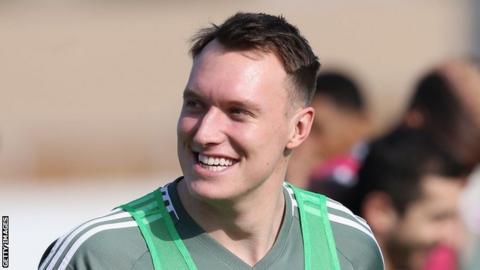 There was a time, much earlier in his Manchester United career, when the thought of playing in an FA Cup final would have made Phil Jones so anxious he would have fallen ill.
Experience from almost 200 United appearances and a couple of major tournaments with England means Jones will avoid any such debilitating feelings before Saturday's game against Chelsea at Wembley.
Thankfully, the excitement of such a showpiece occasion remains.
"When I was younger I used to get really nervous before games, so much so that you are almost throwing up," he said.
"Now I am used to it; I know what to expect. It is exciting - it's not every day you get to play in an FA Cup final."
Jones has more reason than most to hope he makes manager Jose Mourinho's starting line-up.
While the former Blackburn defender has winners' medals from United's FA Cup final win over Crystal Palace in 2016 and Europa League success against Ajax in Stockholm 12 months ago, on neither occasion did he make it off the substitutes' bench.
He said: "I wasn't playing under Louis van Gaal, so that was reasonable. Before the Europa League final, I got a daft injury at a stupid time.
"Initially I thought I wasn't going to be fit. When it came to it, I was - but the manager probably wasn't sure if he could trust my fitness."
Matchday preparation
After holding his pre-match news conference in London prior to the semi-final victory against Tottenham last month, Jose Mourinho will do something similar on Friday, although the venue this time is likely to be Watford.
When their manager is addressing the media, United's players will head to their rooms.
Now 26, Jones tries not to think about what lies ahead until the morning of a match to avoid "doing somersaults" by over-analysing.
On Saturday, the mental preparation begins.
"I think about who I am up against, about every eventuality. Breakfast is optional but at 11 or 12 there will be a team meeting. We will probably be told who is playing about an hour or 90 minutes before the team is made public.
"Then it's stretch, warm-up, showtime."
When victory does not mean success
Saturday represents United's third cup final of the Jose Mourinho era, and their fourth in two years.
Unlike predecessor Louis van Gaal, Mourinho will not be confronted with headlines that he is getting the sack before he has made his way into the room to address the media after the game.
Nevertheless, despite clear improvement and United's second-place finish, their highest in the Premier League since Sir Alex Ferguson retired in 2013, there will be something missing from celebrations should victory be secured against Antonio Conte and his team.
"Finishing second and winning the FA Cup would be satisfactory," said Jones. "But I wouldn't say successful. Success for Manchester United is winning the Premier League and another trophy, and having a good run in another cup competition."
Much like local rivals Manchester City, in fact, given they won the Premier League and Carabao Cups and reached the last eight of the Champions League.
'Not that far away'
Manchester United can at least take satisfaction from knowing they have beaten every top-six rival this season.
However, Mourinho has also said City's record 19-point advantage over United gives a fair indication of the huge gap that must be closed if the Red Devils are to mount their first serious challenge for the Premier League title since they won it in Ferguson's final year.
Jones said: "I really don't think we're far away. Manchester City have done ever so well this year. They have competed in every game and won matches where you are thinking they would draw.
"But in another season, we would have been challenging with 81 points. If we can win on Saturday it will allow us to go into next season feeling confident and ready for the battle."