Cas rejects Munir El Haddadi's Morocco switch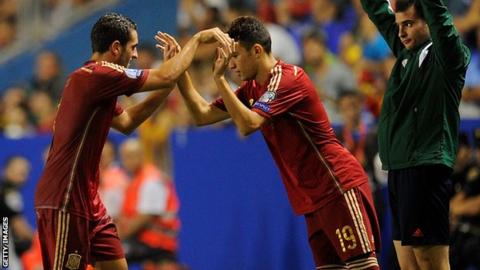 The Court of Arbitration for Sport (Cas) has rejected Munir El Haddadi's appeal against Fifa's ruling that prevented him from playing for Morocco.
The forward, who is on loan at Alaves from Barcelona, had requested to switch national allegiances from Spain.
Fifa rules bar players from changing national teams once they have played a competitive international, even if they hold dual nationality.
The 22-year-old made a single appearance for Spain, in a European championship qualifier against Macedonia in September 2014, when he came on as a substitute and played less than 15 minutes.
"Such decision is now confirmed and the request to change the sporting nationality of Munir El Haddadi from Spain to Morocco remains denied," said CAS in a statement, without giving further details.
El Haddadi , who made his appeal jointly with the Moroccan Football Federation, had asked for a fast-track ruling in the hope of playing for the North Africans at next month's World Cup in Russia.
He was born in Spain and has a Moroccan father and began his career at Barcelona's famous youth academy where he made his professional debut.
Fifa's stakeholders committee is studying a proposal to make the rules more flexible in such cases.