SFA performance director Malky Mackay hopes to tackle striker shortage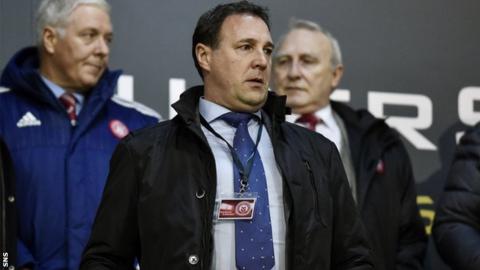 Scottish FA performance director Malky Mackay hopes the organisation can help tackle a dearth of emerging strikers.
National boss Alex McLeish has bemoaned a lack of "natural goalscorers" at his disposal.
The SFA has conducted a series of elite coaching workshops, the most recent of which took place in April, and focused on attacking football.
"There absolutely is [a shortage of strikers in Scotland]," Mackay, 46, told BBC Radio Scotland's Sportsound.
"Look at the [Scotland] team I was asked to pick in November [for a friendly against Netherlands], the lack of forwards available to us of that quality."
Celtic's Leigh Griffiths will sit out Scotland's friendly fixtures away to Peru and Mexico on 30 May and 3 June, respectively.
Former Dundee United attacker Johnny Russell is one of four forwards selected for the trip.
Ex-Cardiff City manager Mackay says the emergence of 4-3-3 as a favoured formation among Scottish clubs has led to fewer strikers developing.
"We challenged the young coaches to go and find forwards, make forward an attractive position to go and play in, and tell them what it means to be a centre-forward," Mackay explained.
"There's got to be that natural talent but the systems we're playing aren't allowing too many centre-forwards to come through.
"The clubs are on a hamster wheel - everything is results-driven every Saturday and some of the young coaches don't get the chance to be mentored. It's not the clubs' fault, it's just the way of the fixtures and the way the game goes.
"It's our responsibility to sit alongside the clubs and help them. We're doing things in conjunction with the clubs; we're not telling them anything."
'At that age, it's not about winning'
Former Hearts head coach Robbie Neilson says the all-consuming desire to win matches can pervade youth football, often at the expense of player development.
"I had it when I was at Hearts - we'd go and watch games and have a kid at under-12s and under-13s scoring 30-40 goals a season playing as one up front," Neilson, 37, said.
"The reason was he was almost fully developed at that age, but the coaches want to put him in because he scores goals. But actually, this kid's going to get caught up within three or four years.
"It's the more technical ones we have to put in, but you're not going to win as many games. At that age, it's not about winning games - it's development, it's touches, it's about enjoying the game."
'More of our clubs need a pathway'
Scotland Under-21 head coach Scot Gemmill argues closer alignment between the academies of Scottish clubs and their first-team set-ups is required.
"The clubs need to have a real pathway for their players and deal with that situation where they've got a young striker scoring four, five goals every week," Gemmill, 47, said.
"Is it the best for his development? Or do they come up with a different plan for him? Too many clubs in my opinion haven't got that real philosophy in place and the gap between academy and first team is too big.
"The real top teams have got that pathway and more of our clubs really need it. That's something we can help with in terms of education, constantly giving ideas and not dictating, but the clubs go back and put in place what they can."
Stark returns to Scottish set-up
Meanwhile, Mackay confirmed former Greenock Morton, St Johnstone and Scotland interim manager Billy Stark has rejoined the SFA coaching set-up, with Donald Park retiring.
Stark, 61, left his post as East Kilbride boss in early May.
"When Donald decided to go, it left a little gap there in terms of that wise old owl," Mackay said.
"Billy is a terrific coach, a great coach educator. More importantly, he's a good man and I think he'll bring a lot to the party and help our young players become Scotland players."