World Cup 2018: Why France travel to Russia with many unanswered questions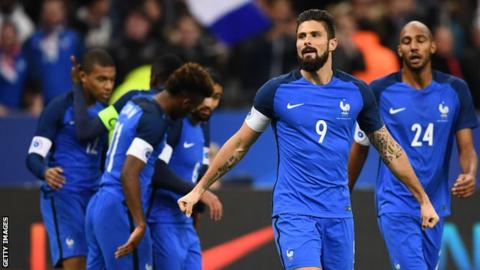 As the World Cup beckons, the usual predictions game is in full flow all around the world. Who will win it? Who is your money on?
France have one of the strongest squads in the competition but I'm not sure that many expect them to go all the way.
Head coach Didier Deschamps left big players like Alexandre Lacazette, Kingsley Coman, Adrien Rabiot and Anthony Martial at home, which shows how many options he has at his disposal.
He also lost Dimitri Payet and Laurent Koscielny through injury but their replacements - Nabil Fekir and Adil Rami - are not too bad either.
Yet there seems to be an expectation that France will be beaten at some point in Russia, by Spain, Brazil or Germany.
Despite all the talent they have, despite some clear progress between their 2014 World Cup quarter-final defeat and the Euro 2016 final, they will travel to Moscow on 10 June with more questions than answers.
Is Deschamps the wrong coach?
There is a perception in France that Deschamps, as a player and manager, has always had luck on his side.
However, since taking over the France team in summer 2012, his good fortune seems to have deserted him.
Euro 2016 had his name written all over it. After leading France to a World Cup triumph as captain in 1998, he could have added another chapter to his legend by guiding his country to another big title on home soil.
Yet, in the final against Portugal, Deschamps got it wrong, mainly being too cautious despite his team being on top.
Has he lost his touch? It is a bit early to say. The players still trust him but there have been a few other incidents where his decisions have been questionable and where his approach has been poor.
He made the wrong choices in a World Cup qualifier in Sweden in June 2017. He decided to start Blaise Matuidi, Moussa Sissoko and Payet instead of N'Golo Kante, Ousmane Dembele and Kylian Mbappe, who were all in better form and shape.
Les Bleus lost the game and the manager lost a lot of credibility.
Last September in Toulouse, France could not beat Luxembourg in another World Cup qualifier after Deschamps again got his selection wrong.
His inability to respond when Les Bleus threw away a 2-0 lead at home against Colombia to lose 3-2 in a friendly in March was also concerning.
"I make choices based on my analysis and my observations," he said in response to the criticism. "I take responsibilities for the players I choose."
Deschamps is under contract until 2020 but he knows how important this World Cup is. France have their best squad of players since 1998, when he won it. It is time for him to deliver.
Can Pogba be this generation's leader?
Through the history of French football, the successful France teams have always had one outstanding on-field leader.
Raymond Kopa led them to third place at the 1958 World Cup. Then we had the Michel Platini generation, with two World Cup semi-finals in 1982 and 1986, and a win at Euro 1984.
Finally, between 1998 and 2006, it was Zinedine Zidane's turn to reign and bring more success.
The Kopa-Platini-Zidane sequence needs an heir now, someone capable of taking the current France team forward. And there is only really one candidate.
"It is Paul Pogba's turn to be in charge," says former Arsenal winger Robert Pires, a team-mate of Deschamps in 1998.
"He says he is ready to take the role and the responsibility. This is his time. He wants to be the boss. He is mature enough now, strong enough to do it.
"For France to win this World Cup, they need Pogba at his best. He will have to guide this team, the likes of Mbappe and Dembele, to the next level.
"He is not the only leader. Hugo Lloris, Raphael Varane, Matuidi and Antoine Griezmann are all senior figures in this squad as well. But Pogba has to be the main man. He was named best young player at the last World Cup. He has to be aiming to be named best player of this tournament, full stop."
And what about Mbappe, who moved from Monaco to Paris St-Germain on loan last year, with a £166m permanent deal set to follow?
Pires thinks it is too early for the teenager, although there is little doubt the prodigy will one day take on the role.
"He is only 19 years old - he has plenty of time," added Pires. "It is important not to put too much pressure on him. This is his first big competition. I believe he will shine on the pitch but it will also be part of his learning curve."
Leadership has been a problem for France since Zidane retired after the 2006 World Cup. You can have clever players and strong characters but to have a real leader, on and off the pitch, is a different matter.
Why has there not been progress since 2016?
Euro 2016 was a huge heartbreak for Deschamps and his men. It was supposed to be the competition that brought France back to the top.
The hopes were so high. It was theirs to grab. So the defeat in the final against Portugal was a big blow and the hangover lasted far too long.
Since 2016, this France team has not improved, even despite the emergence of wonderful talents like Dembele, Corentin Tolisso and Mbappe.
When the head coach and the players should have made sure they overcame the disappointment of 2016 and built on the positive things they did at the Euros (beating Germany, Griezmann shining), they actually crumbled.
Either they took for granted that they would continue their progression or they just underestimated the task ahead.
Is it a lack of ambition?
For this tournament, the objective set by the president of the French Federation, Noel Le Graet, is to reach the semi-finals. What is wrong with targeting the title? Why only think about the semis?
The absence of consistency from some of the players, the key players especially, has been a problem.
Tactically, Deschamps is also still searching for his best formation. Should he stick with the 4-4-2 that worked in 2016? Or is 4-3-3 more suited to this squad and better equipped to win the World Cup?
The head coach will have to decide.
There is some proof he has moved on from 2016 - he has called up only nine players for the World Cup squad who were there in 2016 (Hugo Lloris, Steve Mandanda, Samuel Umtiti, Adil Rami, Pogba, Kante, Matuidi, Griezmann and Olivier Giroud).
Whether those changes are enough, we will soon find out.
Can France be inspired by the class of 1998?
Twenty years ago, on 12 July, France won the World Cup, on home soil, for the first time. It has been a long and sinuous road ever since with some highs (2000, 2006 and 2016) and a lot of lows (2002, 2004, 2008, 2010).
There is a sense of destiny, however, which will travel to Russia with this French squad.
Most of the players called up by Deschamps grew up with the memory of 1998 and the incredible France-Brazil final. Mbappe was not even born when Deschamps lifted the trophy at the Stade de France that summer but he has watched the tapes a million times while growing up.
The 1998 generation need successors and it might be written in the stars that the class of 2018 can be exactly that. Expectations are high. The pressure will be too.
"It can't be a burden for this generation," said World Cup-winning left-back Bixente Lizarazu.
"It should not be some added pressure that they have to win because we did it 20 years ago. However, if they can use it as an incentive, it could work.
"Didier has been there before, he has done it and he will have a lot of advice for the players, especially the younger ones to guide them through this process and take them as far as possible."
Winning the World Cup 20 years after Zidane would be very special for Pogba and this France squad.
They have issues to sort out, questions to answer and they might not be at the top of the predictions lists right now.
But as we say in French, nothing is impossible…